Client Machine (Operating system/System info/Roon build number)
Roon 1.6 build 416 on MacOS 10.14.5
Network Details (Including networking gear model/manufacturer and if on WiFi/Ethernet)
n/a
Audio Devices (Specify what device you're using and its connection type - USB/HDMI/etc.)
n/a
Description Of Issue
When editing the history, the window presenting edit functions doesn't close after edits got applied which always confuses me a little - I don't use this functionality too often. To illustrate what I mean:
I want to remove a track from the history:

The "Action Window" opens (which is to be expected) and when selecting "Delete" I get a confirmation dialogue (also OK):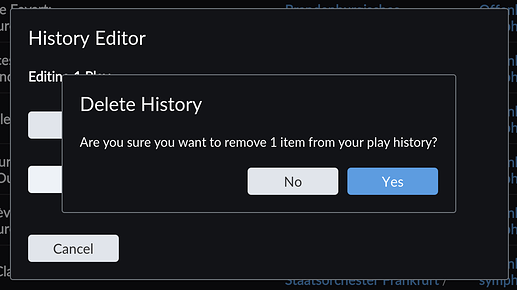 After selecting "Yes" I can see in the background that the selected track disappeares from the History. But this window remains open: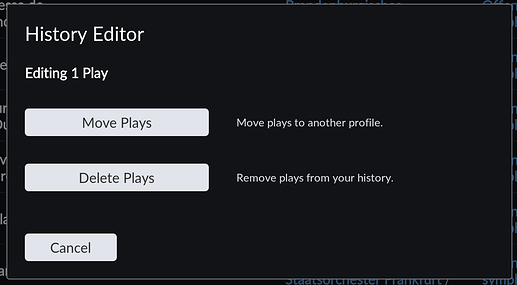 That is not what I would expect.
After the edit got applied it should automatically close, too. I can press cancel or click outside the window to get rid of it so I'm not stuck - still I think the behaviour should get changed. (Also since I could also press Move ore Delete - even so without any effect except triggering the confirmation dialogue again.)