Content you're reporting an issue with
Hi, I have several albums both physical and Tidal for the Japanese artist Bird (real name Yuki Kitayama). I've created a new primary artist "Bird (Yuki Kitayama)" for both Tidal imports and my physical CDs. The problem is that Tidal has a lot of other items under this vary common name. How can I exclude these from the my artist listing? I don't see how I can hide or delete albums unless I add them to my library. This seems odd to add them to my library just so I delete them.
Have you made any edits to this content in Roon?
Renamed Roon's primary artist to "Bird (Yuki Kitayama)"
Is this content from local files, TIDAL, or Qobuz?
Tidal and Local
Screenshot of import settings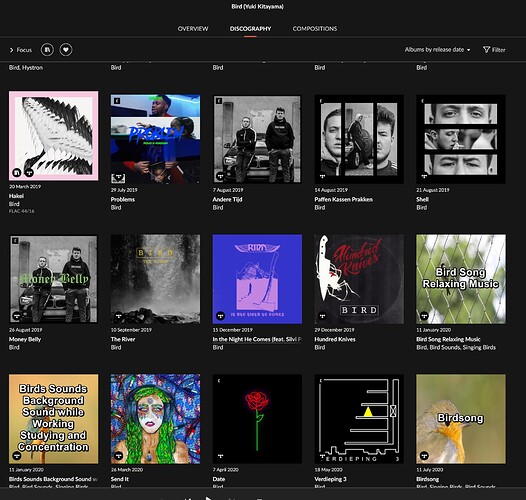 In this screenshot, the only album I want to see is the top left one "Hakei". All the others I want to delete or hide.