Content you're reporting an issue with
The album is the Hagen Quartett's recording of Schubert's String Quintet with Schiff.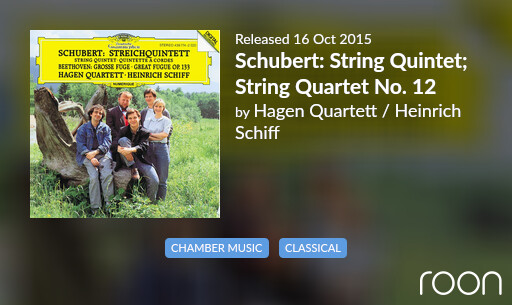 Have you made any edits to this content in Roon?
I have tried to edit the metadata after I allowed roon to miksidentify the album.
Is the album identified in Roon?
It is actually misidentified.
Is this content from local files, TIDAL, or Qobuz?
It is a local file.
Screenshot of import settings
Description of the issue
The album has two compositions, Schubert's Striing Quintet and Beethoven's Grosse Fuge in Bb. It was unidentified when I first added it to roon. When I manually asked roon to identify it, roon found what looked to me like the correct album, but I didn't look closely enough - my bad. I actually allowed roon to identify the Gross Fuge as a movement from Schubert's Quartettsatz. While I can change the title and composer of the track to the Beethoven, roon still thinks the composition is the Schubert. I did delete the tracks completely from the hard drive and then unzipped them again. But roon still has the mistaken metadata. So I look for help to do one of two things:
Change the composition of the existing track. As I said I can change the title of the track and have done so, but that does not change the composition roon associates with the track which is what I need to do.

Delete the album from the hard drive (I have it in a zip file so I can always reinstall it) and make roon forget all about the album allowing me to start all over.
For the record allmusic has the correct album Hagen Quartett - Schubert: String Quintett; Beethoven: Great Fugue Op.133 [Germany] Album Reviews, Songs & More | AllMusic so I am at a loss to understand why roon didn't identify it correctly from the start.