Core Machine (Operating system/System info/Roon build number)
My core machine: Roon Nucleus
Network Details (Including networking gear model/manufacturer and if on WiFi/Ethernet)
Roon Nucleus is hardwired to Ethernet using a QNAP switch.
Audio Devices (Specify what device you're using and its connection type - USB/HDMI/etc.)
I have three DACs that I play music through: Chord Qutest; Ayre QX-8; and a MSB Premier DAC. The Chord Qutest is connected via my iMac (which I use as my primary Roon app); the Ayre QX-8 and the
MSB Premier DAC are connected via Ethernet.
Description Of Issue
On the Roon Remote app on my iPhone, I can't access all of my playlists. I have two categories of playlists: Mark's Playlists and My Playlists. On the iMac Roon app, there is a drop-down menu under Playlists that allows you to select either Mark's Playlists or My Playlists (or any others you have created). On the Roon Remote on the iPhone, I can only access Mark's Playlists; there is no drop-down menu when you tap Playlists.
What am I missing? There must be a way to access all your playlists using Roon Remote.
I've attached two screen shots:
Screenshot of Roon Remote iOS: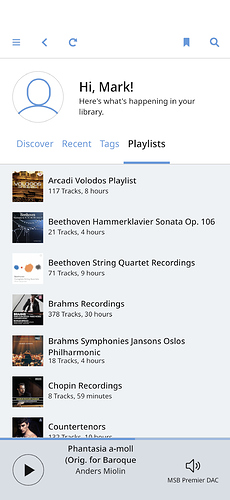 Screenshot of Playlists on the iMac Roon app: