Here's what I get for the Tidal album "Haydn 2032, Vol. 1: La Passione" by Giovanni Antonini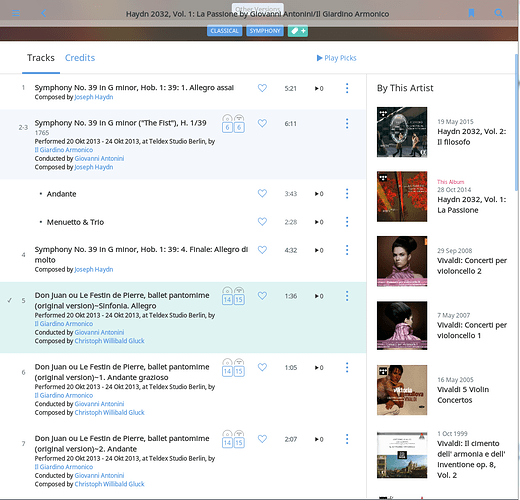 There are a number of issues which I would know how to fix if I had the album on my hard disk, using file tags. I have no idea how to do it within Roon.
The movements of the Haydn symphony are not grouped. I don't know how to change the "work" part of the tracks' title in order to achieve this

Composer and Performer credits are shown differently for the tracks. In fact, the credits for all four tracks of the symphony are identical (manually edited within Roon). It is correctly shown in the File Credits popup window from the three-dot menu.

I have 14 separate "Don Juan" entries in Gluck's composition catalog from the tracks of this CD. Since they have identical titles up to the ~ separator, they should be grouped into one composition. I don't know why this doesn't happen.