Details on your Core machine (OS, Hardware specs, Roon build)
Pinkfaun 2.16X Server, running on Audiolinux, AMD 7 3700 processor, 16GB RAM, 1 HD Samsung SSD 250GB for Roon + 2nd HD Samsung 4TB SSD for local music
Roon version 1.8 build: 795
HQPlayer: HQPlayer Embedded 4.24.0
Details on your Remote(s) (OS, Hardware specs, Roon build)
iPad Air 2 – 64GB - running iPadOS 14.4 - Roon build: 795
Samsung S10e – running Android version 11 kernel 4.14.113-20607146 – Roon version 1.8 build: 795
PC running Windows 10 Pro - Intel(R) Core™ i7 CPU 870 @ 2.93GHz Ram 8GB, Roon version 1.8 build: 795
Networking details (especially what hardware you're using, how everything is connected, and anything notable about how it's all configured)
Ethernet & Wifi Mesh network built on 3 * Asus Zenwifi XT8
Connected to Service Provider modem
Speedtest connection speed ethernet 93Mbps download – 18Mbps upload
Roon Core connected via ethernet, Remote PC connected via ethernet
Mobile Remotes connected via Wifi
Audio devices in use
T+A 8 DSD connected to Roon Core, using HQPlayerEmbedded, connected via USB
Endpoints : 2 * Logitech Squeezebox Touch , connected via Wifi
Library details
Local library on separate internal SSD 4TB harddisk in Roon Server
Qobuz Hi-fi Sublime streaming service
60086 tracks (3944 albums – 2312 local, 1632 Qobuz)
Backup details
Location 1 : System disk 250Gb on Core Machine
Location 2 : USB disk connected to Core Machine - 2GB capacity
Location 3 : Synology NAS 10,8 TB capacity
Location 4 : USB disk connected to Synology NAS - 7,2 TB capacity
Description of Issue
I have this backup error message displayed continuously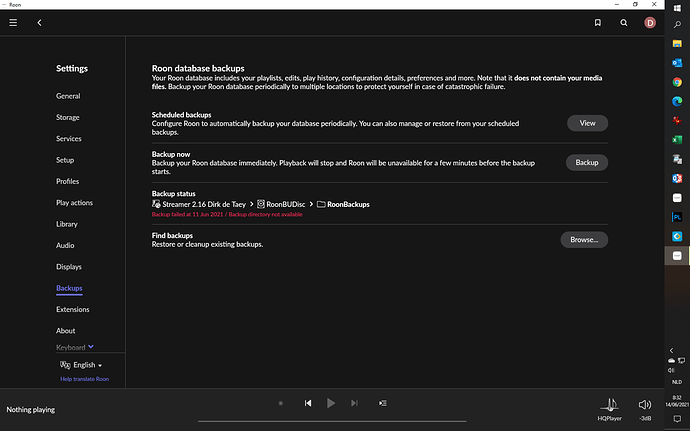 This is quite normal as the disk is not existing anymore.
But there is not (or should not be) any backup activity scheduled to this disk anymore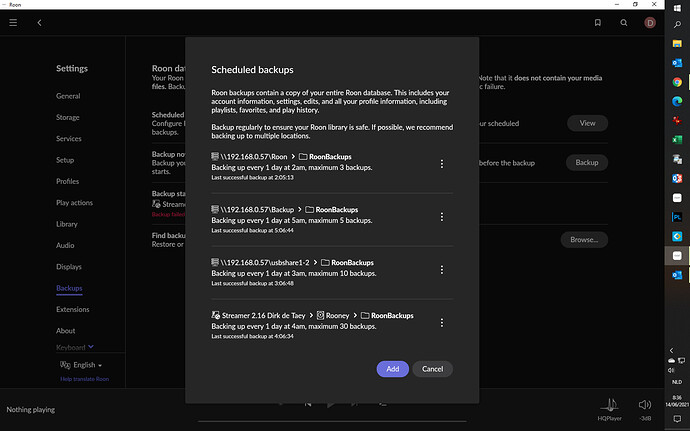 The disk is also still shown when I browse for backups: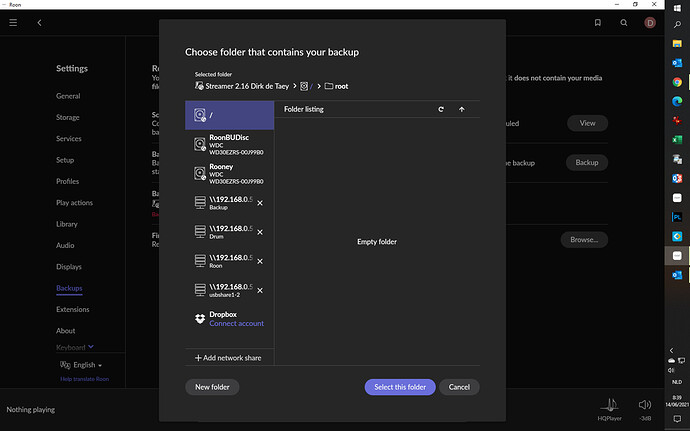 So, Roon is still looking somewhere in Roon's (backup)history/configuration to non-existing disks.
Maybe there are good reasons for that, but I would like to see this error message (and if possible backup location) removed.
Is there a simple way to accomplish this?
Dirk