Roon Core Machine
QNAP Core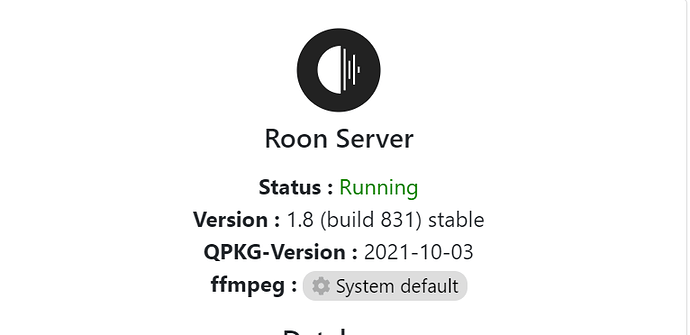 Networking Gear & Setup Details
It depends which client I use, but the problem is the same for locally attached Roon through LAN or one installed on iPad and iPhone through WiFi
Connected Audio Devices
Number of Tracks in Library
Probably more that 30k.
Description of Issue
I had to expand my Raid 10 on Qnap which involved deleting the whole setup and installing it again. After that I installed Roon on QNAP and it came up:
Then I tried to login to it:

But after I click Connect it gets stuck in this: On my first connect I received a warning that only one Core is supported. I don't get this anymore, but it seems as if I'd need to reset/sign out from all devices. Not sure how I'd do it. Please note that I only have one Core right now.
This is what I see in the server logs:
10/23 09:28:25 Info: [brokerserver] Client connected: PC:62511
10/23 09:28:26 Info: [brokerserver] Client connected: iPhone:62512
10/23 09:28:26 Info: [brokerserver] Client disconnected: PC:62511
10/23 09:28:26 Trace: SENT NONFINAL DistributedBroker.ConnectResponse={ BrokerId=f1ef3cd8-2452-4685-9d90-5b89ec62478a BrokerName='NAS' }
10/23 09:28:26 Trace: SENT NONFINAL DistributedBroker.UpdatesChangedResponse={ IsSupported=True WasJustUpdated=False Status='UpToDate' HasChangeLog=False CurrentVersion={ MachineValue=100800831 DisplayValue='1.8 (build 831) stable' Branch='stable' } }
10/23 09:28:27 Trace: Successful POST response from https://push.roonlabs.com/push/1/connect
10/23 09:28:27 Trace: [push] connecting to 35.196.114.77:9204
10/23 09:28:27 Trace: [push] connected
10/23 09:28:37 Info: [stats] 3332mb Virtual, 201mb Physical, 28mb Managed, 0 Handles, 54 Threads
10/23 09:28:47 Debug: [easyhttp] [25] GET to https://messaging.roonlabs.net/1/api/messages/ returned after 238 ms, status code: 500
10/23 09:28:52 Info: [stats] 3332mb Virtual, 202mb Physical, 29mb Managed, 0 Handles, 53 Threads