Hello.
My new Huawei MediaPad T3 tablet with Android 7.0 doesn't work with app Roon remote.
Yury
I think the T3 may not support OpenGL 3.
Hi @Yury_Kochetkov,
Would you kindly provide the following information?
Core and networking details?
Did this work for you previously?
Are other remotes working okay?
What isn't working with this device? Is it freezing? Crashing? Not installing at all?
The application opens and freezes immediately after connecting the Nucleus. does not respond to commands. Other remotes work well. Reinstalling the application and restarting the tablet does not change anything.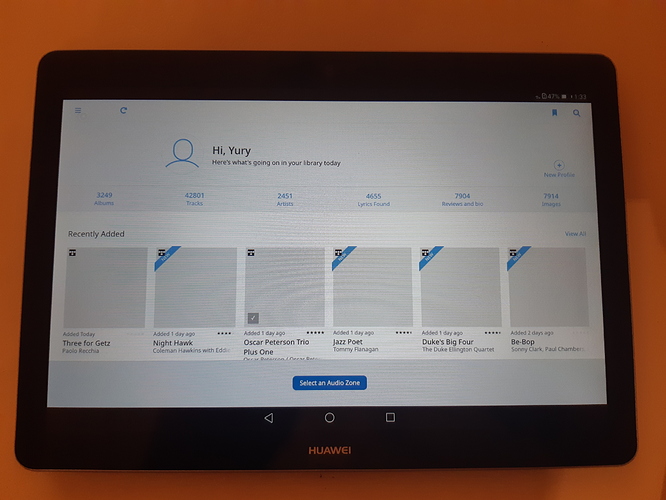 Reply with the information needed by Dylan.
Thanks for the details, @Yury_Kochetkov.
The team is investigating this and we will be sure to update you as soon as we have more information about this issue.
Hello Dylan
Сan you give a link for download the previous version of the application. It isn't inconvenient to live without the remote control.
Best regards
Yury
Same here. Using this tablet in basement workshop. Totally freezes.
Hello Dylan
I have no doubt, that your team is working to solve the problem. Please inform when will the update for the remote? Using a Nucleus without a remote control is not convenient.
Yury
Fully agree as I, like others, cannot use Android tablets as before the last update. Needs to be addressed and fixed.
Hi @anon20693046 and @Yury_Kochetkov,
I can't provide any specific timelines just yet — Our team is currently working to test the solutions to this issue and others that will be a part of the next update. As soon as everything is completed and testing has wrapped up we will be releasing as soon as possible.
Hello,
We've released a new update, Roon 1.7 Build 528, which contains improvements that we believe will help with the issues you are experiencing here. Please see our release notes below:
Thanks,
The Team At Roon Labs
Can confirm that the new release has corrected the problem on Android tablet.
Thanks for your efforts.
This topic was automatically closed 36 hours after the last reply. New replies are no longer allowed.