Roon Core Machine
Nucleus + (Rev B) S/N 54B2038C10B3
Networking Gear & Setup Details
Ubiquiti UDM-Pro Router
Multiple Ubiquiti Managed Switches
All of which have been in service for over a year.
WiFi using multiple hard-wired Ubiquiti U6-LR AP's
Network has been stable with no connectivity issues since installation over a year ago.
Nucleus + worked well on this network until February.
Connected Audio Devices
PS Audio DirectStream DAC with a factory add on network card.
All connections via LAN. All hard-wired.
Number of Tracks in Library
Predominantly access and use Tidal
Description of Issue
Nucleus has been on network 2 years and working well through Roon app on iPad. No network changes.
Use static IP 192.168.1.210
No other equipment assigned same IP.
Unable to access Nucleus + using IP.
Monitor network with Domotz Pro and it says Nucleus + has been offline for 3 months. I had not used Roon since February so was unaware as I was working and out of town a lot.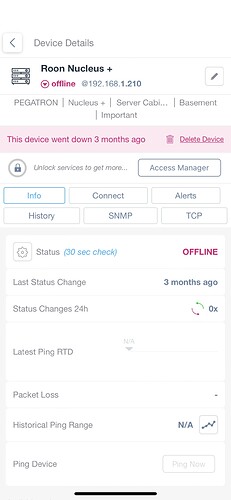 In the meantime I have set up a core on a Windows 10 computer and accessing Roon using the Windows core.
Network light on Nucleus (at RJ45) is flashing.
Basically lost connectivity with Nucleus + in February. Unable to see device on network since February. RJ45 light is flashing on Nucleus.
When I try to access Roon via the Roon app on the iPad it says searching for core and never finds it.
Is there a way to reset to factory defaults and reconfigure?
Thanks,
Jim Kauten, MD