There was an update a few days ago to fix the missing endpoints issue. Did it not work for you?
So this appears to be a matter of semantics. I gather from what you're saying that, as long as Roon functions as intended, it can't be a massive failure. We disagree, but you're not being unreasonable for feeling that way.
The usability of Roon, for my use case, was diminished enough for me to go from loving it to not wanting to use it all. That for me, was a failure and it was massive. I've written substantive posts with my criticisms of 1.8. It's more than just colors and fonts. Again, I'm all good now because I'm back on 1.7.
But yes, if a design goes from being excellent to poor (again, for my use case), it doesn't matter that it's working as designed.
This is not the only thread with complaints, it's just the one with the most provocative title. I'm definitely NOT going to name community members who vehemently defended Roon before and who now voice discontent. That's too close to finger pointing, which is something I'm not willing to do.
Anyway, I personally am getting a better insight into what was important to them in the previous iterations of Roon. The changes they complain about explain a lot about why they had a different take on Roon's qualities than I did.
Hegelian dialectic at work if you will, even if parts of the dialog were terse.
It was on the Roon Facebook page
It's certainly hard to keep track of all the responses from Roon if you have only briefly browsed the forum, but I don't think your statement is true:
Have you reported your endpoint issue?
This post has the link, edit or rather it doesn't, this is a different one but still might be useful. My bad. The correct link is in @SimplicityCompass' post below this one.
Link to the Feb 25th livestream: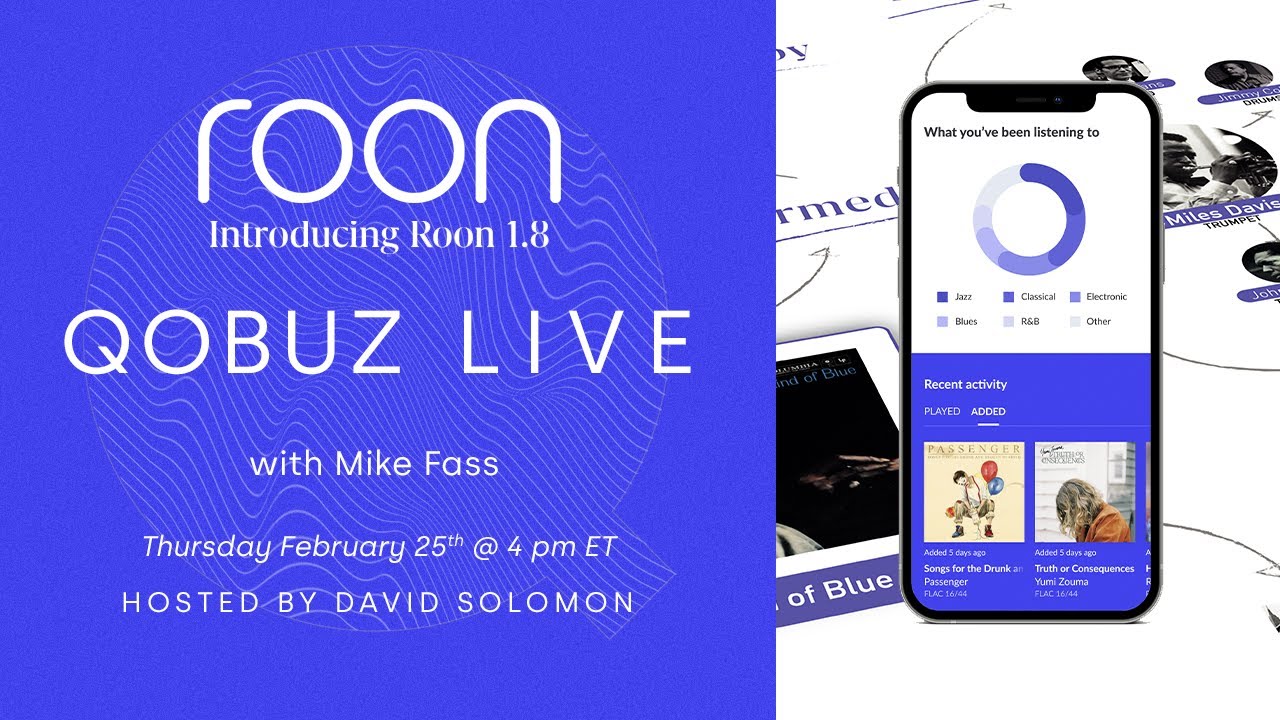 EDIT:
Good to have both, @killdozer

Thanks @SimplicityCompass I'd just realised my error and was returning with a correction. I'll leave them both standing as the link I posted might be of interest. It's also clearly not the interview in question though

No I haven't reported the endpoint issue. I have two other open support cases (one stretches back over a month and although I got a reply from Norris, I am still waiting for the issue to be resolved. The other is only a day old). I figured I'd wait until those are resolved before requesting help with the endpoints, and also to wait to see if bug fixes take care of the problem. Where can I see and follow my open cases?
I'm about a third of the way through this video. They use Ella Fitzgerald as a use case for how Valence "popularity" works. So I brought up Ella Fitzgerald and I get a few famous albums I expected to see but also "Ella Wishes You a Swinging Christmas". Is anyone else seeing this? Is Valance working 3 months in arrears?
Yep, I read your first issue. I'm not party to how support are helping you, but boxsets are certainly an issue in Roon - it needs to be improved. I guessing, but perhaps the issue needs to be resolved by the metadata provider, not Roon?
I can only suggest looking at this topic:
Perhaps editing the metadata outside Roon will help make all of your boxset visible? In most cases it's an longstanding issue with the metadata Roon receives from providers, and possibly for you, a few distinct album releases being within the boxset. In the case of classical, the distributors can't even agree on an industry wide standard for metadata.
Sadly, only from your DM's with Roon support. Roon should certainly have an issue/ticket management system.
Trying to sing along to the lyrics to What (extended) by Soft cell and just thing something is not quite right !
Roon if you don't fix this by tomorrow I'm cancelling my lifetime membership etc …
Yep, I get this as my second recommendation; new install/database within the last few days, no playing/favouriting of Ella Fitzgerald: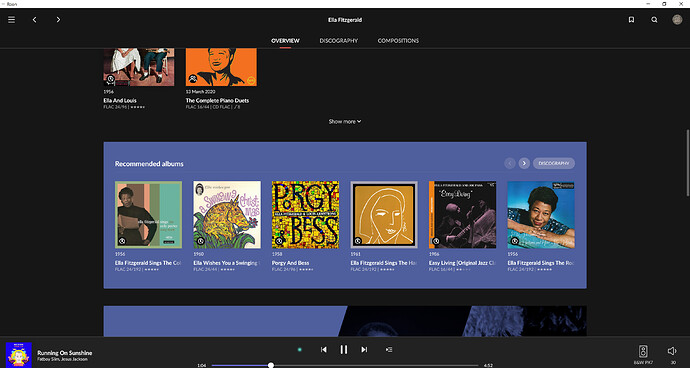 I think Roon are looking at the seasonal themed Roon radio recommendations:
I'm assuming any fix will address Artist page recommendations also, @mike?
Although to be honest, I often listen to seasonal songs outside of the 'proper' time. Some great classical pieces are just as lovely to listen to any time of year. So I'd prefer seasonal albums are kept within Artist recommendations.

Yeah, I'm not just disappointed as I will have to get an alternative to Roon unless a ton of what's been addressed and fixed or just give us option to use 1.7 :). I worked all day and don't need the aggravation right now but I'll list a couple of m bigger issues. At top of list when we listen to an album and like a track we can Tag it - Put in in a playlist etc and for whatever reason u have decided to get red of that feature . Meaning if I go back a week later to listen to those tracks I have NO Idea where they are and if I listen again I could save the same song again. There is zero track ability . I have 10,000 albums saved … how would I know exactly what Playlist it's in. What were u guys thinking? It's mostly all Fluff and limited function. We are constantly scrolling from top to bottom . Credits: the album says artist name and we hit credits and to scroll half way to China just to see the name again w/o saying the instruments that artist plays. All of us want the pertinent info within a short block of each other. This is like 10% of complaints. It's really bad Roon Team. What are u shooting for… A fluffier Puffed up Pandora ish Form and Function. What happen to back button / rankings and hardly any info on artists or album/profile etc. Sorry Roon Team. Someone needs a talking too. Cheers, Brett
Maybe the previous practice of no hints on content or timeframe was a good one after all

What you don't know can't disappoint
The big question is with back end changes for 1.8 how long 1.7 will still function.
Roon specifically have a no roll back policy, they no doubt have a plan when 1.7 will be zapped, it's probably currently dual maintenance, that can't last
When you find an alternative, I'm all ears. So far each audio playing app has whiskers on it, there's some niggle that doesn't sit right, bringing down the experience. You can't please everyone, but this release has seen activity from users who haven't posted for a while to new posters. That in itself has got to ring alarm bells and don't hide behind stats.
Well surely Mike must have seen this when preparing his Ella Fitzgerald section on Valence for that video talk? Or maybe the regression is very recent and happened afterwards . . .
I'm new to Roon (trial phase). My first impressions have been very positive so far. @hwz Your enthusiasm is catching. Thanks a lot, mate.
De nada, Z. Very nice to see you here. Welcome!