Roon Core Machine
2021 15" MBP Mac OS 10.15.7, 2.3 GHZ quad core i7, 16 GB RAM, 1TB internal SSD
Networking Gear & Setup Details
Verizon FIOS Router, Netgear Orbi wifi access
Connected Audio Devices
Schiit Multibit Gungnir DAC->Schiit Mjolnir 2 amp-> headphones, desktop speakers
NAD C338 amp via Chromecast
Number of Tracks in Library
99,800 tracks
Description of Issue
Not a problem as much as a question about the behavior of the new Versions tab. Here's a screenshot: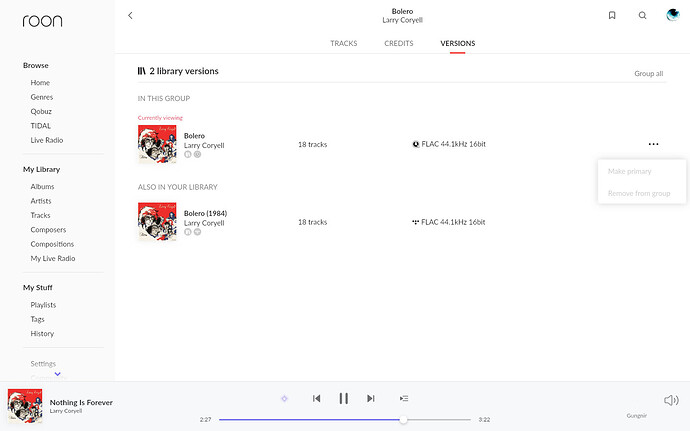 Questions:
What defines a 'Group'? This group appears to have 1 album in it, the Qobuz version?

Why is the Tidal version "also in my library" but not in the same group?

I'd like to designate the Qobuz version as the primary version, but the option to mark it as such is greyed out? There doesn't seem to be a 'primary version' here, though I have seen it in other groups and been able to choose a version as the primary version.
Appreciate any insight, I just don't get this updated tab! Thanks!