Roon Core Machine
Nucleus
Networking Gear & Setup Details
Connected Audio Devices
Number of Tracks in Library
Description of Issue
I am trying to figure out what Roon is telling me about my configuration, which starts with a Nucleus.
When I go into my Roon settings, it shows a McIntosh C53 (Roon Tested) connected directly to my core. I have enabled it and everything is working as expected.

However, the C53 has no network connection and its USB port is not connected to anything.
When I am streaming to the C53, Roon shows me this data path.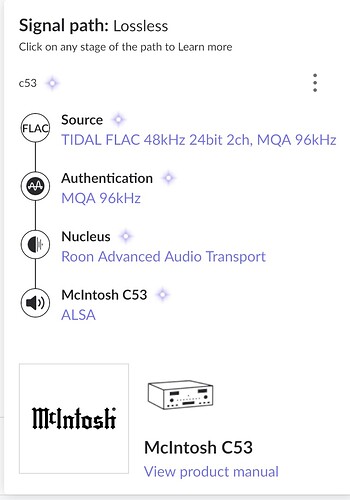 The actual configuration is:
Nucleus via USB to,
MCD12000 (Roon Tested) via XLR audio cables to,
MP1100 (not Tested nor Ready) via XLR audio cables to,
C53 (Roon Tested) then to amplifier.
There is no digital data path (for example AES/EBU or coax) to either the MP1100 or C53.
The reason I am asking is that I want to be sure that the DAC in the MCD12000 is being used and not the one in the C53. Of course, there is no way the DAC in the C53 could be being used because there is no digital data path to it. But, I do want to know what is going on.
Thanks,
Dan