Sorry, i see that this has been asked, but i cannot read 1000 posts to solve the problem.
Since yesterday i get this message on mobile (and laptop):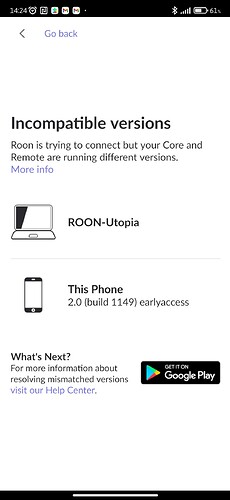 So:
-i was partecipating at the early access program, and don't want to leave it. I don't know why my roon core is now production (i had to reinstall, but something like a month ago…)
-on my mobile i've tried to unistall roon remote, and re-install the app… but this did not solve
-on the laptop (remote), i've unistalled and made a new install. this worked.
how can is solve?
or, in alternative, i do i leave the EA program?
thanks