Seeing the issue where an artist/group name is being identified differently over different albums.
Mary Lorson is a good example. She has released "solo" albums under the names Mary Lorson & Saint Low, Mary Lorson & the Soubrettes as well as another album under Saint Low. Here is what i am seeing in Roon:
Under Mary Lorson i get:
The two albums above are identified as:
The first inconsistency is Tricks for Dawn is identified as bot Mary Lorson & Saint Low as well as both individually.
If you look at the second entry though it is just identified as two separate artists. there is not Mary Lorson & the Soubrettes.
For reference here are the albums under appearances:
The Saint Low album should be here imo, but the Realistic album should be up in the main albums with the other Mary Lorson & Saint Low album, and all three should be shown under Saint Low
Going to the Saint Low Artist entry in Roon i see:
With the Saint Low album identified as follow:
As you can see here it knows to credit Mary Lorson but since her name is in white it does not put it in her albums (in is under Appearances for her)
Now when i go to the Mary Lorsen & Saint Low Entry i see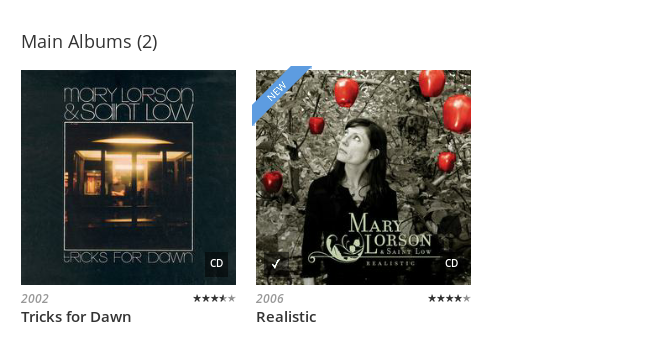 Here there is a second album Realistic. This album is identified as:
So for three different albums for the same person i get three different methods of identification, which means that depending on which version of the artist i choose 2 are likely to leave out an album and the other arranges them wrongly.