Herbert von Karajan recorded 4 Beethoven Symphony cycles in each of the decades 50's, 60's, 70's and 80's. This is mentioned in at least one of the roon album reviews for the different cycles. It is a bit random which of the 4 versions roon will identify against, so you are probably going to have to manually identify and give a few more clues in your tags if you want to get the release match correct.
I have 4 versions, two for 1963 (redbook and SACD), and one each for the 70's and 80's. Opinions vary but the 1963 version is the most highly regarded by many reviewers. Problems with 1.8 have encouraging me to seek out the 1950's cycle, maybe it is on Qobuz. That's good. But what is not good is that changes in the UI make it much more difficult to navigate or at a glance confirm the version I am listening to. In 1.7, although it required a lot of manual intervention it was at least possible to get a clear and consistent display of recording and release dates if that is important to you. I certainly didn't do this for everything but for a few favorite recordings I have gone to the trouble.
Now roon presents two different views of your albums depending on whether there is an album description or not. In 1.7 all the basic information about the album was displayed regardless if there was an album description or not. That is not the case anymore.
So for example. The 1977 version has no album description and looks like this. I don't like the grey on grey on grey design choice (another story) but if I squint I can see the recording date of 1977: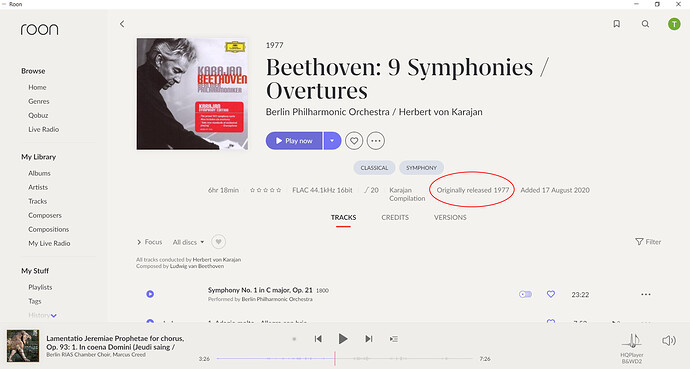 On the other hand the 1963 version has an album description but now I have lost the most important piece of information about this release (beyond the obvious) which is the recording date: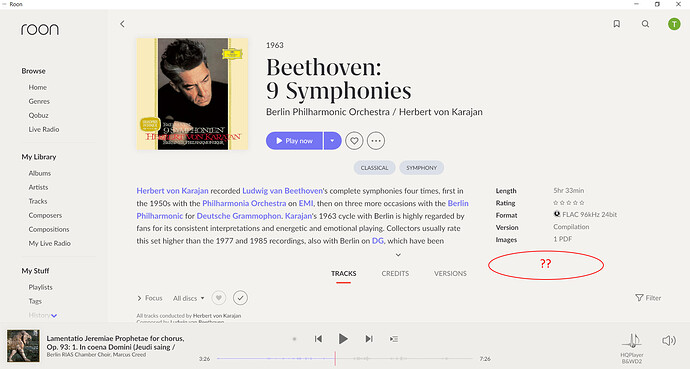 There are now well over a thousand posts on 1.8 in various threads so I don't remember where but there have been a couple of comments on this inconsistent layout. I am just trying to point out that for Beethoven fans at least there are functional as well as aesthetic considerations to the design choices that have been made.