Roon Core Machine
iMac Pro, 32 GB Ram, 3.2GHz 8-Core INtel Xeon W
Networking Gear & Setup Details
900MBPS Comcast, Connected via Ethernet, Netgear Orbi Router, Netgear Nighthawk Modem
Connected Audio Devices
Naim Muso V2
Number of Tracks in Library
4950 albums, 78000 tracks
Description of Issue
Occasionally I see an issue with the album artist links on an album's page. Oftentimes it is when an artist shares the name with another artist.
For example, here is an EP by the band DNA. There is a statement that says "All tracks performed by DNA" that contains a link.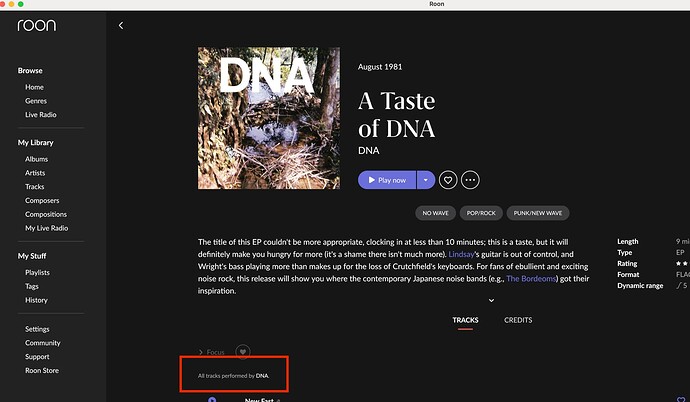 If I click this link, instead of taking me to the actual band's page, it takes me to a different artist's page instead, for example what appears to be an electronic music duo that goes by the same name of DNA.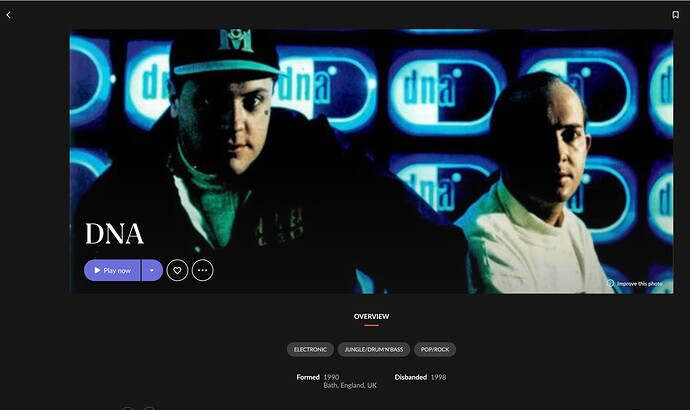 I've tried modifying a few things to get this to stop from occurring, but nothing has really worked. Any ideas? Note: If I click on the artist link underneath the album name, that link works correctly.
Thanks!