Roon Core Machine
iMac (Retina 5K, 27-inch, Mid 2015)
3,3 GHz Quad-Core Intel Core i5
Memory 32 GB 1600 MHz DDR3
Networking Gear & Setup Details
Asus RT-AX58U router/wifi
TP-Link SG3424 managed switch
Connected Audio Devices
Linn Klimax DS (network connected)
Linn Akurate DSM (network connected)
Linn Sekret DSI (network connected)
Moon 850D DAC (USB)
Naim Muso QB (wifi)
Sonos AMP (network connected)
Number of Tracks in Library
35.000 tracks
Description of Issue
All iOS are on version 2.0 (they were automatically updated). I installed the core on the iMac as RoonServer; I restored the database from the mac Mini used to run Roon 1.8 (mac Mini cannot run 2.0 as I can't upgrade it to macOS 10.15).
The core runs, and I can connect to it with ARC (iPhone on cell). Also, on the iMac, when installing Roon, it can be reached (but in that case, you have two cores running on the network when also RoonServer is running); see the image below: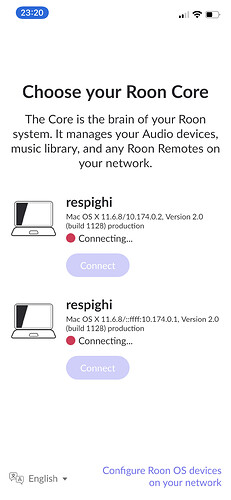 Looking at the IP addresses of the cores, it occurs to me that the first one listed has the (fixed) IP address of the iMac; the second seems to have the router's IP address.
Stopping the RoonServer core leads to just one core on the network, with this result: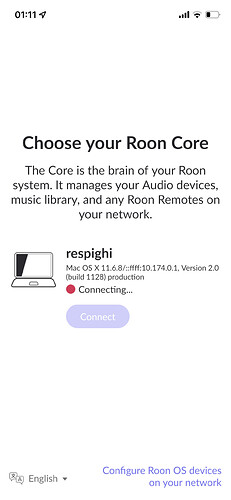 I defined a port forwarding on the router:


Where 10.174.0.2 is the fixed address of the iMac.
Roon ARC works, but I frequently get the message "Poor connection." This is strange as the iMac is on a network with an 800Mb/800Mb fiber internet connection, and I have the same in the office. Wifi is capable of 1.5Gb max on both ends.
I do not get any further than this. I have installed the Legacy 1.8 version on the mac Mini and the Legacy version for the iOs apps, and at least everything works again. But Roon 2.0 does not yield favorable results thus far.