Hello…,
I've owned this network audio setup for about two years now.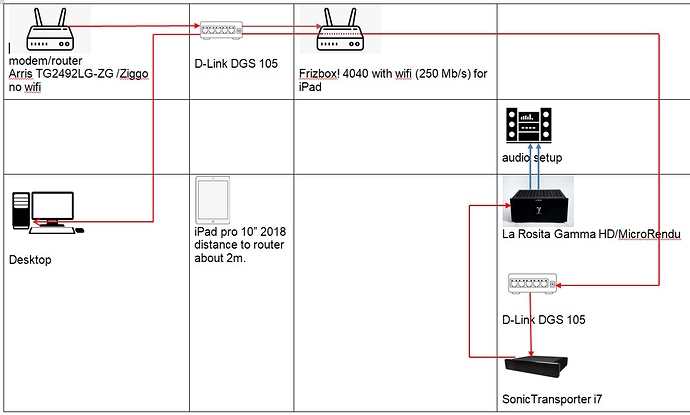 I have had problems with it from the start. In a previously started topic (https://community.roonlabs.com/t/ios-briefly-loses-connection-to-core/94869)
I talked about the lost connection between the iPad and the Roon Core. I usually managed to find a detour to get back in touch. I also bought a new router with a "stronger" WiFi (250Mb / s). That didn't help. The interruptions are usually no longer than a second but the picture does change as a result, very annoying. A failure of more than 5 minutes occurred at most once a day. The PC is usually off when I listen to music in the evening.
Now this problem suddenly increased last evening. I wanted to listen, but the iPad already indicated at the start that there was no connection to the Core. I alternated 5G with 2.4G, which sometimes helped with outages. I had never experienced this before. And switching didn't help either. Eventually I restarted the PC but it also had no connection to the Core. After a minute there was suddenly a connection on both the PC and the iPad. I shut down the PC and immediately the connection to the iPad was lost. Now I can no longer use the iPad as a remote without the PC turned on.
It seems like my network audio setup keeps on collapsing.
Oh yes, I also use the switch with the sonicTransporter for a small stream setup with a Raspberry Pi / Volumio as a spare. This one is not on. (By the way, I have no connect problems with the iPad as a remote for Volumio).
Does anyone have an idea what it could be?
Greetings, Bert Dijkstra