Core Machine (Operating system/System info/Roon build number)
Mac Mini / late 2014 / High Sierra 10.13.6
Roon / 1.7 / build 571
Network Details (Including networking gear model/manufacturer and if on WiFi/Ethernet)
Wifi AirPort Extreme
Audio Devices (Specify what device you're using and its connection type - USB/HDMI/etc.)
Roon Bridge / Allo DigiOne / SPIDIF to Dac
ChromeCast / Endpoint
iPad Air / Remote
Windows10 / Remote
Description Of Issue
Hi @nuwriy,
Time stamp: 10:50am Eastern Daylight Time
Repeatedly my iPad is not being listed in the Zone selection. So I went to the Setting > Audio and found that the ipad was hung up. It is stalled here and has been "Enabling" for over 10 minutes. Pressing the refresh arrow and leaving the page doesn't help the iPad get enabled. Force quite and restarting does fix the problem.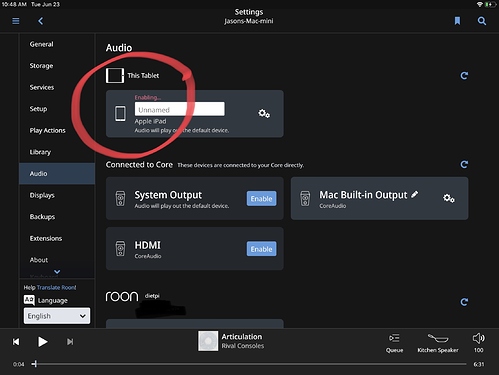 Thanks in advance for your help.
Regards,
Jason