Core Machine (Operating system/System info/Roon build number)
System76 Jackal 1U Rack mount server
Ubuntu 18.04.4 LTS
Intel Xeon v6 4-core, 3.7GHz
1.7B521
Remote is iPad Pro 10.5 inch, iOS 13.3.1, Roon 1.7B521
Network Details (Including networking gear model/manufacturer and if on WiFi/Ethernet)
UniFi by Ubiquiti, Ethernet CAT6 in-wall wiring, plus several UniFi access points providing 802.11ac
Remote is connected via 802.11ac
Core and all relevant audio devices are hard-wired
Audio Devices (Specify what device you're using and its connection type - USB/HDMI/etc.)
Bryston BDA-3.14 via hardwire Ethernet
Description Of Issue
iPad Roon Remote app screen goes blank in the following scenario:
Open Roon Remote app
Begin playback
Press Home button to return to home screen
Press Power button to set iPad to sleep
Wait a while, about 10-20 seconds
Press Power button to wake iPad, get past TouchID to home screen
Open Roon Remote app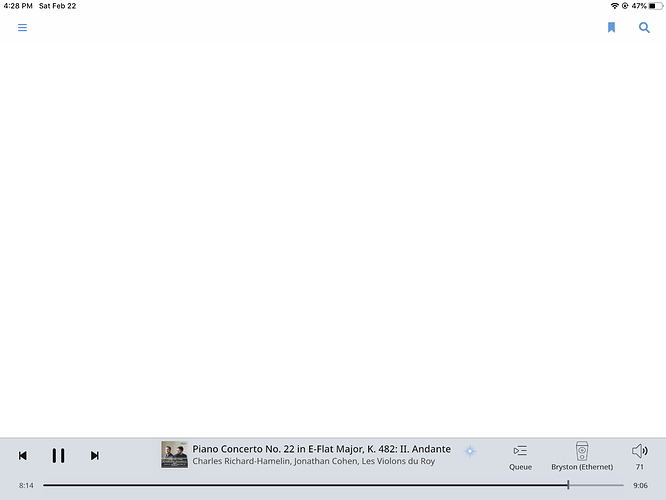 Note the back button is absent. The music never stops playing and I can get back to the album by touching the album cover picture in the "now playing" area at the bottom.
I have a screen-capture video showing what it looks like (recording started after step 6 above). It's in MP4 format. I cannot upload it here. Please let me know how to get it to you and you can see the issue happening.
It seems to be 100% repeatable, but only when music is actually playing. The problem goes away for a while if I delete and re-install the Roon app from the iPad, but it will inevitably return.
Does not happen on an iPhone 11 Pro, but I use it as a remote much less frequently.
Thank you.