IPhone 11 Pro, loses DAC / Roon Zone if I get a phone call or other #support interruption.
Wanted to report this so it could be tested…
Latest Roon build on Mac Mini @Support
WiFi has been solid and works on separate NAD M10, and iPad Pro.
iOS 13.6 and new 13.6.1
Using the Apple brand Lightining to USB adaptor into HD6xx
Two DACs have same problem; Dragonfly Cobalt and the Dense Adapt reference dac
Symptom, if I get a phone call, it stops roon play, I answer the phone(or cancel it),
Then I launch roon, the same song I was listening too is there, paused.
I get different outcomes sometimes. I select play and I hear it on the iphones speaker sometimes. I try to close and relaunch app , still just the phone speaker. Try disconnecting the dac and reconnect, or try different sequence of the Apple dongle then dac, and no difference.
Other times I don't see my iPhone zone, try reboots etc…
I finally end up rebooting the phone to get it back.
Also note, I haven't experience these symptoms on iPad. (My iPad Pro 12.9 latest model, can get phone calls just like the phone, But does not have the issues.
Any one else?
Some important follow up… It may appear to be all app related on the iPhone. I also used apples lightning to 3.5mm (lousy sound but good for test). It behaves the same, so appears to have nothing to do with lightning adaptors or external DAC's.
I'm attaching two photos with some of the evidence. One shows the select a zone, where the iPhone is not showing. , after a phone call. So I reboot phone or shut down and restart to reacquire.
The other picture shows that while playing roon. If I stop/start from the lock screen it will not start roon again and continue playing like it normally behaves with Apple Music…
Thanks
Screen below is launchingRoon from background, after a phone call only to find the iPhone does not show.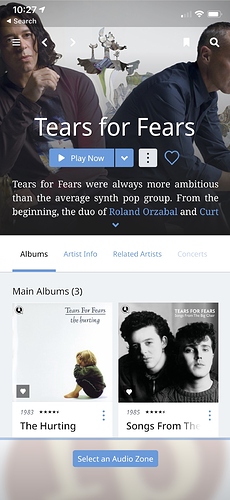 Photo below shows lock screen, I pressed play but nothing happens.