The identify album UI is very tedious when trying to match an album where the track numbers have been shifted. That's because you have to shift the tracks back one by one.
Here's an example: I have 21 tracks I need to shift down by 6 positions. The current UI means I need to click 21 * 6 = 126 times, on tiny buttons that move around as I click on them (violating Fitt's Law).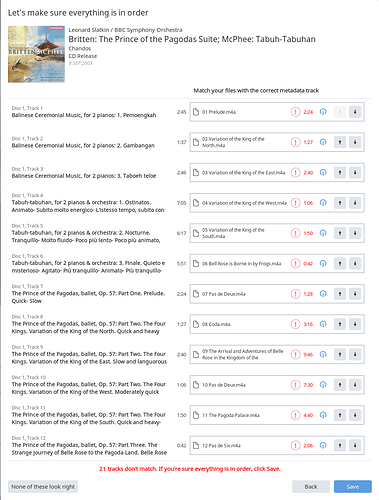 Adding the ability to shift-select tracks to group them then drag-and-drop them would be ideal (the screen should waste less vertical space on white space, as even maximized on my 30" monitor I often cannot see an entire disc at once). A simpler improvement would be to have two buttons for "shift all tracks up" and "shift all tracks down". Better yet, bind that to up/down cursor keys or PgUp/PgDn.
I tried offsetting the track numbers in iTunes to match the ones in the Roon database using AppleScript, but it's worse, the tracks get jumbled in the identify UI.