Core Machine (Operating system/System info/Roon build number)
Core 1.0 227 / Roon server 1.8 756


NUC Core I7/ RAM Disk 256Mo/ Memory 64Mo
Network Details (Including networking gear model/manufacturer and if on WiFi/Ethernet)
Wired Ethernet
Audio Devices (Specify what device you're using and its connection type - USB/HDMI/etc.)
USB
Description Of Issue
Is there any limit on Database as each time I try to add my third NAS, The database goes wrong and I can't restore any backup, I have to start from scratch my Library, it was the same behavior in 1.7 Roon Server!!
Each NAS, I have three of them (SYNOLOGY ) have 10 To of data Album of music.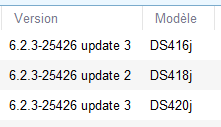 With two NAS I have 29 K of Album


Let me know if there is a limit of album manage by Roon ??
Thanks for your help