Hi Mike
It depends on what you clicked to Play, i.e. what is actually in your Queue.
If I click Play on a single track (Work) and Radio is on, Radio will start after that track (Work).
If of course you clicked on Album - Play, you should check what Roon is adding to the queue.
Dirk.
This was choose an Artist by Search , Jeno Jando
Sort Albums by Album Title
Select Album > Play couldn't be simpler, it played the one work and then went to Roon radio !!
I have never seen this before , new Feature ?? @support
I have 6 Schubert Piano Sonatas From Tidal
It would seem to be only this one

Look at that screenshot - it's showing total time 19mins which is the time for the first sonata only. Although you have the album identified against the full collection, the other sonatas are not there.
Tidal does have the complete album, so I would delete this partial version and reload the full one.
Tidal shows the whole CD but on 3 CD's something it seems to do quite often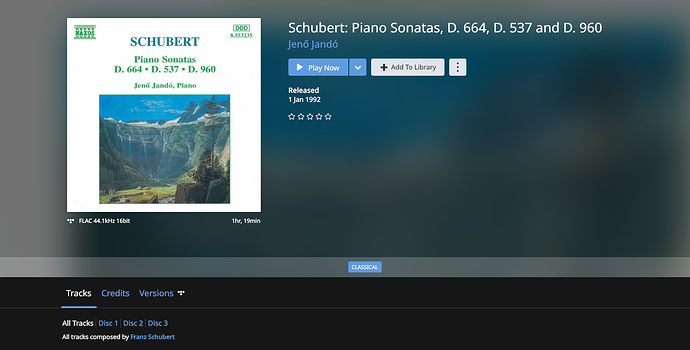 Deleting and re-adding gives the same result , never seen this before , I have seen multi discs for a single CD before
I added it and it's fine.
Try cleaning library between deleting and re-adding?
When you press Play Album, do 10 tracks get added to queue?
That did it , strange though
Roon remembers albums that have been deleted and apparently re-assigns its metadata etc if it sees what it thinks is the same again.
Hi @Mike_O_Neill,
I just gave this a try and it seemed to work okay.
Can you record a video of how you're starting playback and then show the queue screen?
Thanks!
This topic was automatically closed 365 days after the last reply. New replies are no longer allowed.