Core Machine (Operating system/System info/Roon build number)
Mac Mini with Windows by bootcamp / Roon version 1.8(build 7789) Staeble(64bit)
Network Details (Including networking gear model/manufacturer and if on WiFi/Ethernet)
Connect to storage on NAS through router by LAN cable
Audio Devices (Specify what device you're using and its connection type - USB/HDMI/etc.)
connect to VEGA DAC by USB
For some artists, I couldn't find any of their albums shown on the artist page,(see picture 1) but only their tracks.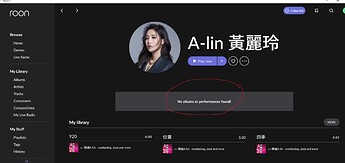 However, when I go to their album, the Primary Artist and Album Artist are showing the proper Artist name ( see picture 2), they just not linking up.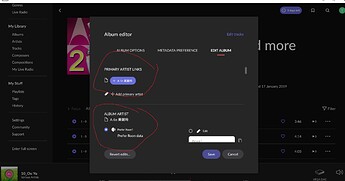 So it will be inconvenient when I try to find the album by the artist. (Of course I can still use the search function to do so, but it just isn't it is designed to be)
How can I solve this problem please?