Cannot play Qobuz this morning in Roon - but works on Qobuz app. Anyone else with similar issues? Any suggestions?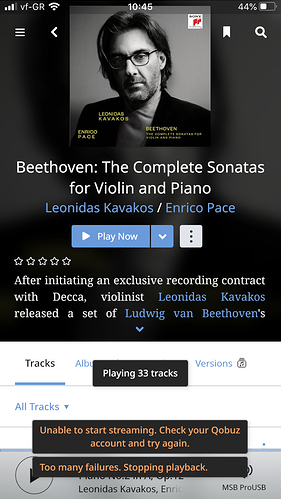 Try signing out, then signing back in to the Qobuz service in Roon? - Go to Settings/Services/Qobuz, click Logout, and then Login again…
Thx I had tried all that. Eventually it took a power cycle. Usually this happens when there is an upgrade but I don't think we had one today
Hello @DrPo, thanks for the report! When you tried the Qobuz app, did you have any issues playing a full song or did you just listen to part of one? It would be good to check and see if your Qobuz app is limiting tracks to 30 seconds.
If that seems to be working fine, though, let me know!
I have the same problem. I've logged out, and back in. I've restarted my laptop. It just sits on "Syncing library now" and doesn't finish, and doesn't play anything. I can play music fine using Qobuz's own player on the same machine – it's Roon that doesn't work.
Hello @PatMaddox, is Qobuz limited to about 30 seconds of play from their app for you?
no. I am a paying Qobuz customer.
This topic was automatically closed 365 days after the last reply. New replies are no longer allowed.