New Qobuz Hi-Res Beta Trial account: have noticed bug in Queue
Hi Don,
I've edited the title to remove your email (so it doesn't get harvested by spam crawlers) and shifted your post to Support.
Can you describe the issue and your setup ? How can the Support staff replicate the bug ?
Thanks Andrew, and sorry for the novice errors. I have a 27" iMac, late 2013 - 3.5Ghz Intel i7 w/ 32 GB 1600 MHz DDR3 running macOS Sierra 10.12.6. This is my Roon Core running Roon 1.6 (Build 390). It is attached via Ethernet to a Sonore Microrendu, running SonicOrbiter OS 2.7. And this is connected via USB to my Chord Mojo. The bug behavior I'm experiencing is once a Qobuz streaming selection in the top of the queue completes, it rotates to the bottom of the queue. It still appears in the hystory. And it appears greyed out with the items in the queue that have already been played. But, I have to select the "Remove from Queue" menu item to remove the duplicate occurrence. I have not noticed this rotation duplication with Tidal at all. I hope that's clear enough.
Best,
Don
Hi Don,
Thanks, that information will be very helpful.
Have you rebooted your Core since noticing this behavior ? Sometimes software can slip into a bad state that a reboot will fix.
Is the repeat function to the left of the dynamic range display in the Queue screen activated at all ?
Can you post a screenshot showing the behaviour you're describing ? You can upload pictures using the picture icon in the edit bar of the post editor.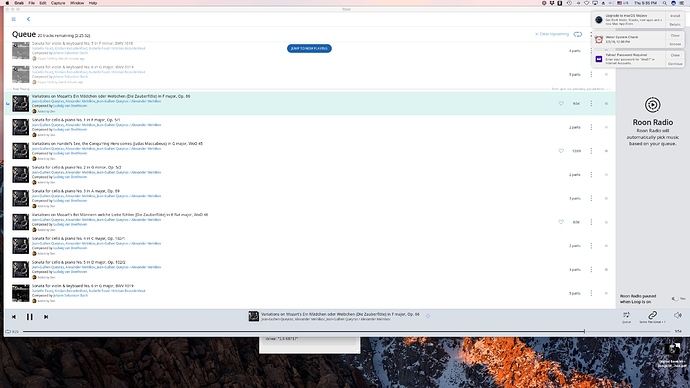 Andrew,
Took a screenshot on my iMac. And as you can clearly see the 'repeat' is blue - but for the life of me, I don't know how it got selected. I feel like a real schmoe. Can you please tell me if it's possible to select this on my iPhone? That's where I do all my library selection and control from. I appreciate your time. But, this was clearly user error.
Best,
Don
Hi @Don_Myers,
Yes, you can access the "repeat" and "shuffle" toggles in the Now Playing screen on iPhone.
– Noris
No worries Don, glad it got sorted out. You wouldn't believe some of the "user errors" I've committed over the years (both with Roon and generally).These days I try to pass them off as deliberate mistakes to see if anyone is paying attention.