Can Roon stop resubmitting songs to last.fm just because I pause them? This is a no-brainer code wise.
Sadly I sometimes get 5 or more tracks recorded in Last.fm for the same track.
But I have also seen it from Sonos and Plex so I'm not sure it is 100% a Roon issue
Hi @John_Nicar, we've brought your report to our QA team. Thanks for the feedback!
Hello @John_Nicar ,
We spoke to the team regarding your report and attempted to reproduce this behavior in the QA lab and we could not. Can you please provide some more details as to when/where you pause the track for it to show up? Are there any screenshots that you can provide? Thanks!
This is a screenshot from Last.fm. All of these submissions are from a Roon client running on Windows 11.The Roon Server is a ROCK. Both are updated to the latest version: Version 1.8 (build 913) and Version 1.0 (build 227), respectively.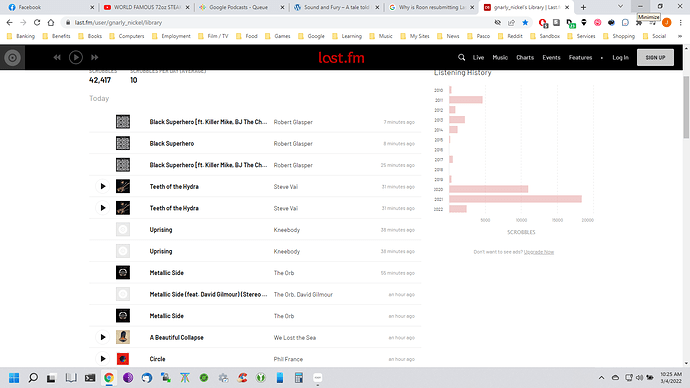 Can you please confirm where these tracks are coming from? TIDAL, Qobuz, personal library?
This topic was automatically closed after 20 hours. New replies are no longer allowed.