Core Machine (Operating system/System info/Roon build number)
High end WIn10 Pro with ROON server only
Network Details (Including networking gear model/manufacturer and if on WiFi/Ethernet)
Core located in util room along with network rack that contains Motorola Surfboard SB6141 modem, Ubiquitii edgerouter, TP-Link TL-SG2216 manged swtich, QNAP NAS for files
Audio Devices (Specify what device you're using and its connection type - USB/HDMI/etc.)
Fiber from switch > Sonore Optical Rendu > USB from OR to DAC
Description Of Issue
Looking for some insight into "not associated with storage location" meaning.
I haven't changed storage settings / location since day one and I occasionally go into the ROON library maintenance setting "just to see" and it never reported much of anything. Now it is showing 4226 tracks?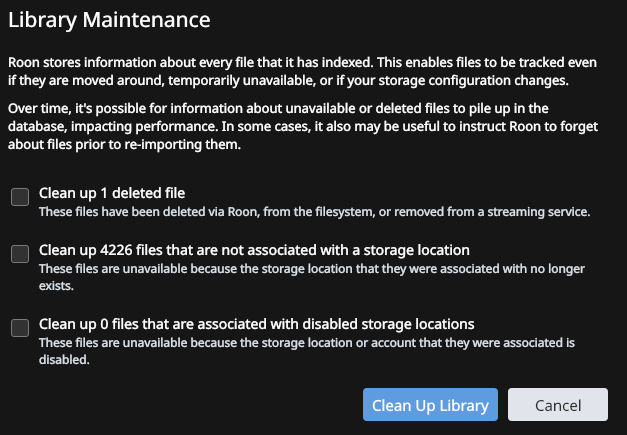 I don't stream and use local lib/files located on NAS (network rack in util room)
Now I have recently done some clean up on albums, usually:
Unidentified albums so I'll edit the metadata directly on the file via dBpowermp (mapped drive in windows explorer) and then on same album in ROON (edit > edit album) for anything further

On multi discs not be recognized in ROON, I'll create a Disc 1 + Disc 2 folder under the parent that didn't exist initially (e.g. change The Wall, Disc 1 to The Wall \ Disc 1 and Disc 2 sep folders)

Drop folder into Musicbrainz Picard, do a look up and save (basically a manual meta data update external to ROON, kind of like a dBpoweramp edit
The ROON server did recently get a major update to 1809 build. I set to delay all updates to the longest period. So 1809 isn't the most recent build by any stretch but I wonder if that alone triggered something.
Additionally, I don't notice anything "wrong" in my enviro and ROON has been pretty solid without issues, but am wondering if this "not associated" is a bad indicator or if something problematic?
Thanks for any assistance