Hi @support
I encountered a problem which I've never seen before. I am not sure if it is Linn-related but I never experienced this issue with any of my other network streamers, so I decided to post it here.
I am using a Linn Akurate DS with the latest (non-beta) firmware. Roon core (Debian) and all remotes (mostly Android devices) are updated to the latest version. Both the Roon core and the Linn device are using wired LAN links. The IP address of the Roon core is a fixed IP - the Linn streamer gets a dynamic IP (DHCP pool). In my setup there are various Sonos devices and a Raspberry Pi based device. On those devices I never experienced this kind of behaviour.
The problem:
I select an album and press "Play now"
The first track is playing but neither the waveform nor the time-information of the track are updated in the Roon Remote app.
There is not error message shown in the remote app.
If I start another remote on a different device the display situation is identical (no marker in the waveform is moving and the time-information is not changing) (see screenshot below)
Everything else in the Roon remote app is working as usual
In one case the playback stopped after the first track. Another time the second track of the album started to play (without updating the Roon Remote app) but after track two the playback finally stopped.
I was able to start new tracks but the app was never updated and the playback is only working for one song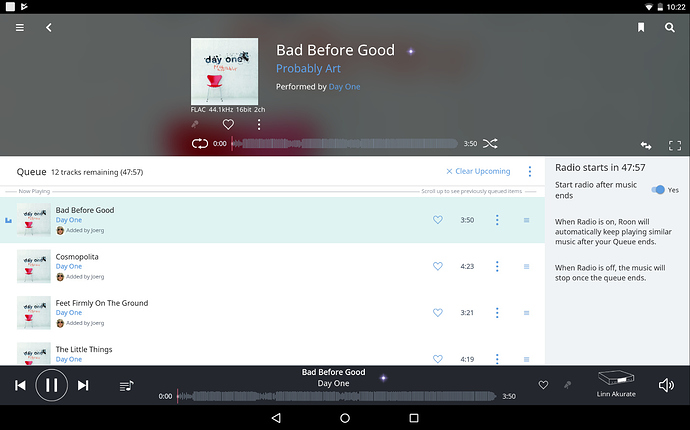 What I found out so far:
After putting the Linn device to sleep and waking it up again the problem remained
Stopping/Restarting the Roon remote didn't change the situation
After turning the Linn device off (with the power button) and turning it on the problem was gone and playback worked without any problems for the next few hours.
When the problem occured again on the next day I transferred the playback to one of the sonos devices. The app updated and was showing a moving waveform and a counting timer. When I transferred this playback back to the Linn device it still worked. The probelm didn't come back for the rest of the listening session (a few hours)
I am using the Linn integration since day 1 of its release and never had this issue before.
Any help would be apprechiated.
regards,
Joerg