As much as I tried to compare measurements to @simon_pepper's post above, I couldn't get a good head to head comparison for various reasons. So here are some cases where performance was tested on a NUC8i7 running ROCK:
(All comparisons done with 24/88 Daft Punk Random Access Memories)
Convolution Filter running on one Zone 60X
Convolution Filter running on two Zones 54X
Convolution Filter running on three Zones 43X
(This was a real surprise to me. I haven't done this before but I found it odd that running convolution filter DSP on three zones ran almost as fast as 1 zone. I guess that is a benefit of a quad core processor on the i7?)
Playing DSD64 file (Santana Abraxas), no convolution > 100
Playing DSD64 file with convolution to one zone 3X
Upsampling to DSD with no Convolution DSP
DSD64 3.8X
DSD128 2.8X
DSD256 2.1X
Convolution Filter, upsampling to DSD256 1.9X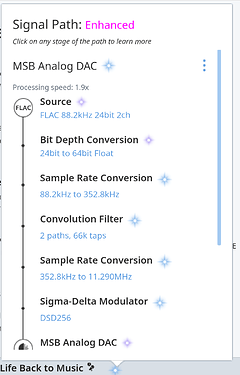 For the record, I don't prefer DSD upsampling. I like the way my DAC does things itself.
It would be very helpful for this thread if someone could post conditions that either an i3 or i7 processor choked on.