the question is in the title!

as far as I can see, there is no way to do this…
hmmm, this is one of the main reasons many of us use Roon.
If you have many Roon endpoints, however, they need to be the "same" … Like Airplay, or chromecast, or RoPieeeXL or whatever. And then you would need to group those "like" zones.
EDIT: @RBO beat me to it! (Great link. Explains it all!)

You'll get me the next time Chris


thanks @RBO @terzinator
unfortunately I do not have the 'group zones' button
I use (only) the roon desktop application on pc…
What Roon endpoints do you have? These may not be turned on or on the same network, reason they're not showing up?
@RBO @terzinator
I use my pc as remote control and
I have roon core as an endpoint and 4 other 'Google chromecast audio' endpoints.
I would like to group some of the chromecast audio…
you might need to group the CC's from the google home app on your phone
Same here. Plus one remote on my iPhone. I can use both to group my zone if I want. Provided all zones are connected to the same network and will show in Roon.
Sadly not familiar with Chromecast.
Here's a screenshot of mine. The Mojo will only show when hardwired as it's not a streamer. I have two more zones which are powered off right now.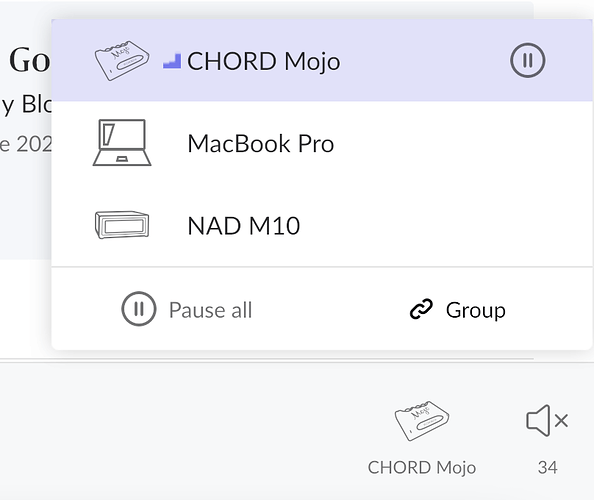 Add images
@terzinator
I will try this this evening, thanks

@terzinator
I made a group with my 4 chromecast in Google home, but nothing happened on roon unfortunately.

so then in roon, you'll need to go to SETTINGS > AUDIO, and that group/zone should appear in "Other network devices".
(And then you need to enable it.)
No?


@terzinator
that is working indeed, thanks Chris.
but it means I need to do this for every combination of groups as shown on your screenshot, not very practical…
I expected one button ' group endpoints ' which would allow to select wanted endpoints at anytime … (as on Raz screenshot above)
Once you do it the first time, the groups should always appear as available zones.