Core Machine (Operating system/System info/Roon build number)
Ubuntu 16.04.6 LTS/Intel NUC7i5 (8GB RAM, SSD disc only for Roon Core)/Roon 1.6 (Build 416)
Library is stored on QNAP TS-451 NAS
Network Details (Including networking gear model/manufacturer and if on WiFi/Ethernet)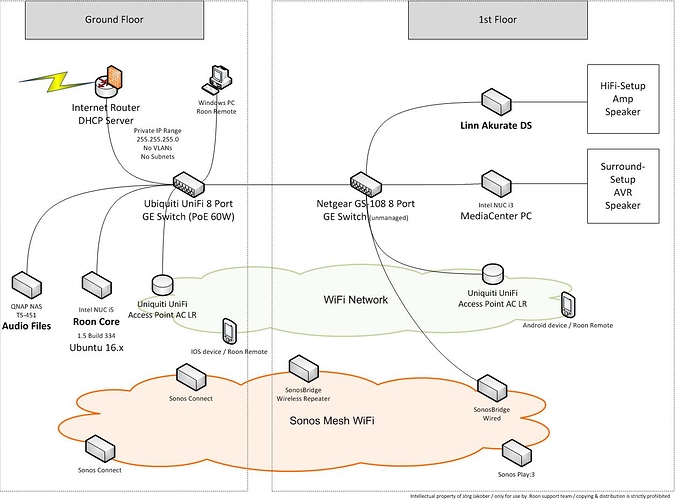 Audio Devices (Specify what device you're using and its connection type - USB/HDMI/etc.)
See above. In this specific situation I was using the Linn Akurate Streamer connected via Ethernet
Description Of Issue
Yesterday I was listening to music for hours (started around 12am and was listening until 5pm). At some point I was leaving the room for more than an hour. When I came back the music stopped. When trying to restart the music with Roon Remote I saw that all the content of my local library was gone. All albums left are Qobuz albums. All playlists only contained tracks from Qobuz.
I checked my NAS which was online. As far as I could tell there was no reboot and not network interruption any other user of the network noticed.
I checked the Settings/Storage menu. The correct path to my NAS was there and the small text was already showing that the library is beeing (re)built. So I waited about half an hour.
As far as I could see the album library was back to normal. Favourite track markers were also there. I have to admit I couldn't tell if everything was complete or if there where things missing. What I saw was, that all my playlists didn't go back to normal. The playlists still only contained tracks from Qobuz.
I ended up restoring a backup from two days ago. Worked like a charm and now everything is back normal.
Nevertheless I would be interested in finding the reason for this behaviour. This never happened before.
I zipped all the RoonServer logs from yesterday (not the RAATLogs). As soon as somebody replied I'll send the link to the logs.
Any support is highly apprechiated.
pj