Hi guys,
been trying out roon for a couple of days now. So far I really like it!
One problem though, which I cannot wrap my head around. I hope you can help me out.
My setup:
music files are located on a NAS in the basement
core located at Windows 10 machine upstairs (TWS_CORE), running roon server 64bit
roon installed as remote on the same machine, connected to core
roon remote installed on a Nexus 10 Android tablet
main hifi equipment sitting in living room connected to a HTPC (Windows 7, 64bit) by HDMI (Denon AVR)
So far, I have a private zone configured at the core to listen upstairs via headphones. I have also configured Airplay to the Denon. On the Nexus, I have access to the Airplay as well as to the local (private) output on the tablet itself. All working fine.
Now I wanted to install yet another remote on the HTPC in the living room and configure digital output to the Denon…but here I fail. I only see the devices connected to the core and the network but no local devices on the HTPC, although windows shows two devices connected (Nvidia HDMI out and Realtek digital output). If I fire up a different player, i.e. Musicbee, I can use WASAPI outputs to both. Why is roon not seeing them?
Thanks for your help,
cheers, TJay
Audio setup in roon remote on HTPC: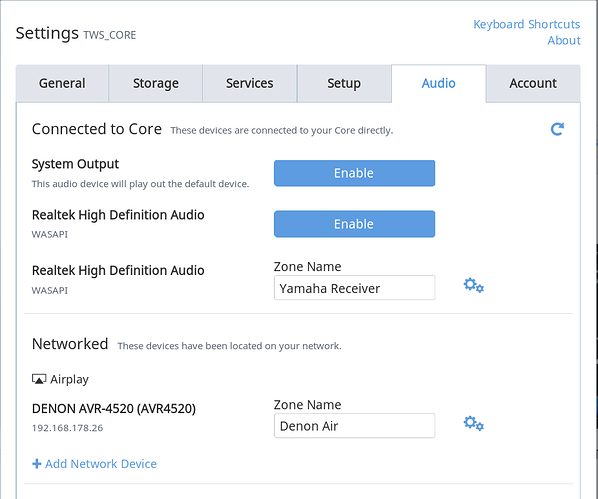 Windows playback devices: