Hi,
I installed Roon 2 days ago to try it out for 14 days and it worked perfectly for only one day. I don't know what happened but I lost the This PC zone so only left is the Chromecast Audio zone. Another weird issue is that there is a small microphone icon next to a circling arrow in the lower right corner. These icons appears to only be in Roon as I do not see them in other applications. Also, they are like OSD which sits on top of the program if I can call it that way.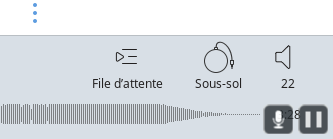 The circle changes periodically to a pause icon. There seems to be something conflicting with Roon or it's a function I do not know about. The thing is that these two issues arise at the same time.
My PC is a i7 6700K 4Ghz with 32gb DDR4, GeForce GTX1070. Win10 is installed and up to date. I have been running this PC for 2 years without any issues. I have a Asus WiFi AC card installed and my router is Netgear R7000. For my sound output, I use a pair of Seinheiser HD 4.40 BT with an Asus USB-BT400 adapter. As I've said, everything was working just fine after I installed Roon so I am not sure if this is related. My library is about 130 ripped CD in AIFF and are stored on my C: (samsung 950 Pro M.2).
Thanks in advance.