I'm having a strange issue. This week I changed my network router. I had been using a Linksys router with four Velop mesh wifi units around the apartment and switched to an Asus Zen wifi setup.
My Logitech Transporter had been working just fine in my kitchen connected by wifi to the Roon core running on an SonicTransport i9 in another room. The Sonic Transport i9 is connected by optical ethernet to my network which is fairly extensive encompassing my entertainment system in the living room and the computers in my Computer room.
Wifi covers both my apartment and the apartment next door so there are quite a few devices on it including televisions, laptops, tablets, and phones. Everything is working just fine except this one issue.
As you can see from the enclosed images the Transporter can see the server but the server won't connect to the transporter. Can anyone explain why the two are disconnecting? At this point I have power cycled both several times. Made sure I am using the latest software, checked all of the IP addresses (which the new Asus units did change of course) and am at a loss to understand what is happening.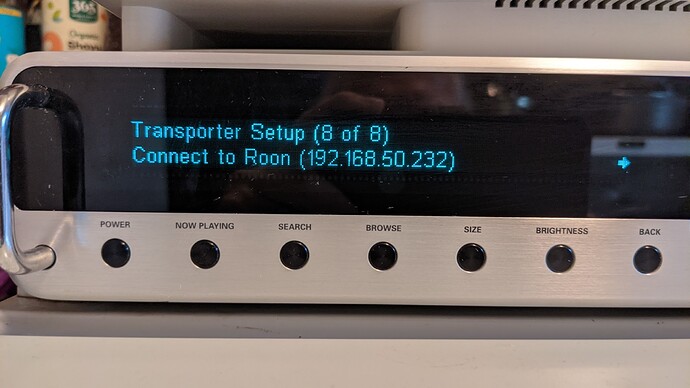 Looking at the Roon logs I found the following lines repeated a couple of time …
08/26 14:15:01 Info: [squeezebox/client] [192.168.50.108:23208] connected
08/26 14:15:01 Trace: [squeezebox/client] [192.168.50.108:23208] GOT HELO device_id=5 revision=87 mac=00:04:20:10:1b:83 uuid=00000000-0000-0000-0000-000000000000 wlan_channel_list=32768 bytes_received=0 language=EN capabilities=
08/26 14:15:01 Info: [squeezebox/client] [192.168.50.108:23208] Device Data: modelkey=transporter model=Squeezebox Transporter uuid=00000000-0000-0000-0000-000000000000 name= mac=00:04:20:10:1b:83 ipendpoint=192.168.50.108:23208
08/26 14:15:07 Trace: [squeezebox/client] [192.168.50.108:23208] Didn't get HELO within 5s. Closing client connection
08/26 14:15:07 Trace: [squeezebox/client] [192.168.50.108:23208] State Change Initializing => Disconnected