I have spent a lot of hours looking at "Looking for your Roon Core" on my iPhone, Kindle Fire and Microsoft Surface. I have found my core with both my iPhone and Fire, but not at the same time. I can view it from only one machine at a time and that is not useful.
Help advises me to ensure that Roon is configured to accept remote connections. https://kb.roonlabs.com/Why_can't_Roon_Remote_Connect%3F
Trouble is that when I navigate to "Settings" in Roon, there is no option to "Accept connections from Remotes", despite what the help clearly says. Why have advice in a help file that is wrong? Careless and not impressive for software that costs so much.
My Roon is part of my Grimm Mu1. It works just fine - but I need to be able to control it from more than one place. Anyone know how?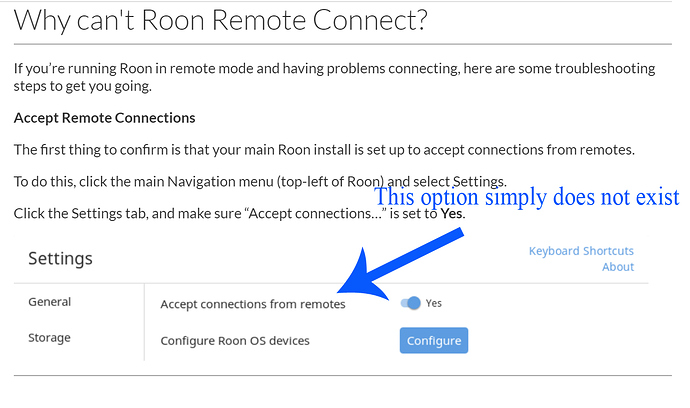 Details on your Core machine (OS, Hardware specs, Roon build)
Core Machine is an integral part of the Grimm Mu1. Version 1.7 build 571

Details on your Remote(s) (OS, Hardware specs, Roon build)
Originally set up on a Kindle Fire. Now running nicely on a iPhone XS. Cannot now link to the Fire - or a Microsoft Surface running Windows 10.

Networking details (especially what hardware you're using, how everything is connected, and anything notable about how it's all configured)
Network is cabled and wireless. Grimm is wired. All connection devices are wireless (Eero). All running on the same network. All have different IP addresses.

Audio devices in use
Dutch 8cs

Library details (where your music is stored, whether you're using a streaming service, how many tracks are in your library)
No storage. All music streamed with QoBuz