I have an issue with the signal from my dac being very low when being fed by the USB output from a Mac Mini.
I am using the Mac Mini as my core, feeding a Musical Paradise MP-D2 dac. In the Preferences > Sound screen of the mini the USB output is listed as xCORE USB Audio 2.0.
Output from the dac is fixed. The amp however sees a very low analogue signal and I have to have the volume turned up quite high for even modest listening levels.
When I stream to my old dac (BlueSound 2i) in an adjacent input into the amp the volume is significantly louder.
Thinking it might be an issue with the Musical Paradise dac I used the BlueSound as a streamer and took the coaxial out from the BlueSound into the coaxial input of the dac. The volume was what it should be - unless there's an issue with the USB card.
That tells me that the MP dac is likely not the problem - rather there's something about the USB output from the Mac Mini that is sending a lower level signal.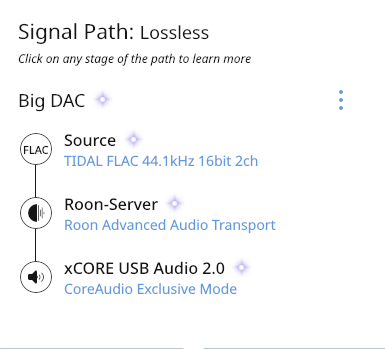 In the DAC setup all the DSP etc options are disabled, and it is set to Exclusive Mode.
Is there something in amongst the MacOS I need to fiddle with?
Thanks!
Michael