Firmware 10.1 incorporates RAAT 1.1.23 that was released 4 days ago.
Stereophile is suggesting some MQA certified DAC or network player passes non-MQA music to MQA processing. (This way it is technically easier to implement.)
Lumin does not do that. Lumin playback of non-MQA music does not go through MQA processing, while maintaining seamless switching among MQA, non-MQA PCM, and DSD music.
For simultaneous support of MQA over RAAT and non-MQA PCM over RAAT without going through MQA processing, RAAT 1.1.20 provided this possibility in June 2017.
Firmware 10.2 integrates RAAT 1.1.28.
MQA DAC-side correction for A1 / T1 / D1 / D2 is improved.
For playback of MQA music, signal path may show an unknown filter - this will become meaningful with a future release of Roon.
It was made to conform to the MQA feature in Roon 1.5.
Just as Roon Build 334 integrates the latest MQA decoder library, Lumin Firmware 11.0 integrates the latest MQA decoder library as well, along with the latest Spotify Connect SDK. The benefit is that it further improves the MQA Rendering in both sound and signal path reporting when Lumin MQA capabilities is configured as "Renderer Only" in Roon.
People are starting to get MQA CD from Japan. We fixed an issue with decoding MQA inside Apple Lossless (ALAC) for those who rip MQA CD using iTunes to Apple Lossless. AIFF, FLAC, WAV had no issue.
Last week we received an e-mail from Roon Labs, they recommend that partner manufacturers upgrade to RAAT 1.1.31.
So today's firmware upgrade for some models include the latest RAAT as specified. The other models will receive the latest RAAT in the next major firmware upgrade.
With the most recent LUMIN firmware (11.0b) on my T1 and Roon update, I found that the signal path is now shown as "Enhanced" instead of "Lossless". Is this what you are observing at your end? Is there re-sampling happening in the chain?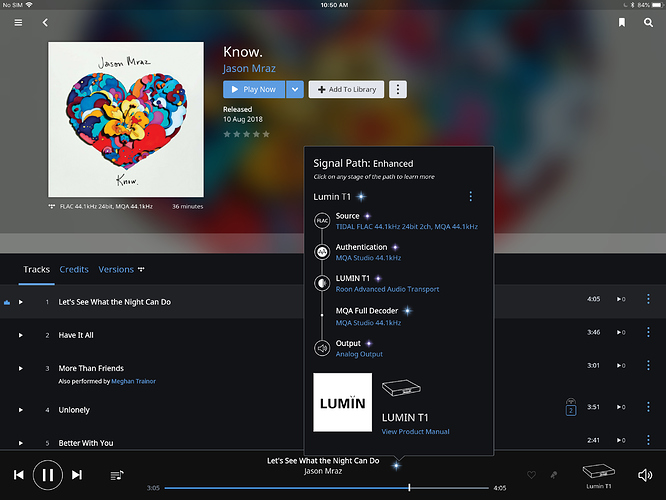 This signal path is normal. MQA Full Decoder is classified as "Enhanced" according to Roon RAAT requirements.
By the way, you can try setting MQA Capabilities for Lumin to be "Renderer Only" instead of "Decoder + Renderer", see if you hear any difference in sound quality or not.
Lumin Firmware 11.4 incorporates the latest RAAT 1.1.33 to match Roon 1.6.
Lumin Firmware 11.5 incorporates the latest RAAT 1.1.36.
Some models will receive this firmware later.
What improvements will that bring Peter?
Thank's for the heads-up Peter!
Nice to see the D1 is still supported!
/Ola
From the Lumin Firmware Release Notes
Update Roon RAAT version 1.1.36
Add front panel MUTE display
Improve error handling for Qobuz server busy
U1 X1 T2 Fix AirPlay volume
U1 X1 T2 Add delay to digital output
S1 A1 T1 Fix HDMI output to Denon / Marantz AV receivers
RAAT internal improvements or fixes are not up to me to disclose.
Hi Peter,
No luck with fixing the click when switching formats on the D2 then?
Can I get more details on this "U1 X1 T2 Fix AirPlay volume"
What was the error?
Did volume not work at all or…?
The current design of Lumin (when not using Roon) is to apply a second-level volume from the iOS AirPlay device source, so that iOS app (e.g. YouTube) volume can be reduced by iPad volume buttons (from the first-level volume in Lumin app or Roon that is treated as the maximum volume). Previously the volume buttons had no effect on our newer models, but this has been fixed.
The first-level volume in Lumin app (or Roon) has not been a problem, so even before this fix there was no risk of damaging speakers for those using a direct to amp configuration, as we do in our Munich and Hong Kong shows.
I now have an alternative implementation of AirPlay volume such that setting AirPlay to maximum volume implies Lumin will be at maximum volume, for Lumin X1 / T2 / U1 / U1 MINI. If there is anyone who want to try this beta firmware, please let me know.
We have released Firmware 12 for LUMIN players to add a built-in multi-room feature independent from Roon.
Since Roon does not support Spotify Connect but LUMIN does, users can now use the built-in multi-room feature to have Spotify play on multiple LUMIN / Linn / songcast protocol compatible devices. Spotify Connect multi-room sender works on LUMIN X1 / T2 / D2 / U1 / U1 MINI / M1. All LUMIN players can act as multi-room receivers.
@wklie Hi Peter. My Lumin IOS app isn't giving me the option to upgrade to Firmware 12 from 11.7 on my U1 and U1 Mini. Is there anything special I need to do to make this happen? Previous firmware upgrades were always automatically available.