Core Machine (Operating system/System info/Roon build number)
Mac Mini 2018, 3.6 GHz Quad-Core Intel Core i3, 8 GB RAM, 128 GB SSD.
macOS Catalina 10.15.3
Roon version 1.7 (Build 521)
Music is on direct attached storage (SSD).
Network Details (Including networking gear model/manufacturer and if on WiFi/Ethernet)
Apple Extreme router and Airport Express bridge to audio playback device.
Audio Devices (Specify what device you're using and its connection type - USB/HDMI/etc.)
Bryston BDP-1 in Roon mode (but same symptoms occur with USB connection from MacBook Air as controller and playback device, or using a Bel Canto e.One Stream.
Description Of Issue
Playback works fine. No issues using the above devices.
However, RoonServer and RAATServer are pegging the Mac Mini CPU - even when Roon is NOT playing back any audio - it stays in this state until I stop Roon Server on the Mac Mini, but goes back to maxing out the CPU, as soon as I restart.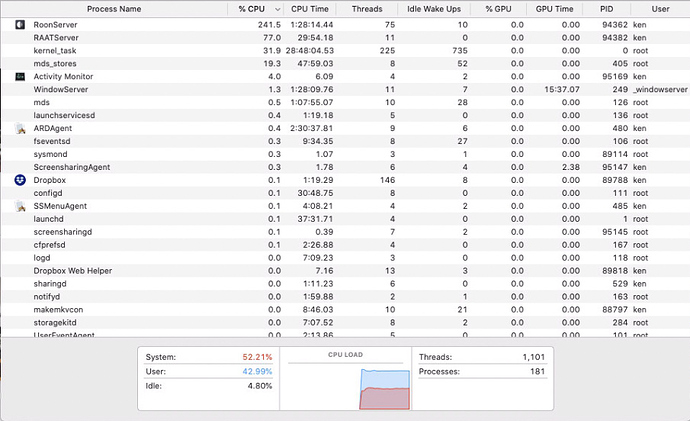 I have created a support package, but don't see how to upload or attach.
Thanks, Ken.