iMac Retina 5k, 27 inch, late 2015. 4GHz Intel Core i7. 24GB 1867MHz DDR3 memory. Roon version 1.6 (build 416)
Vodafone fibre broadband with Apple AirPort Extreme. iMac connects wirelessly to the Airport and then Ethernet to the Sonore Microrendu.
Ethernet from AirPort Extreme to microrendu and usb to Chord Hugo TT, played through Focal Elear.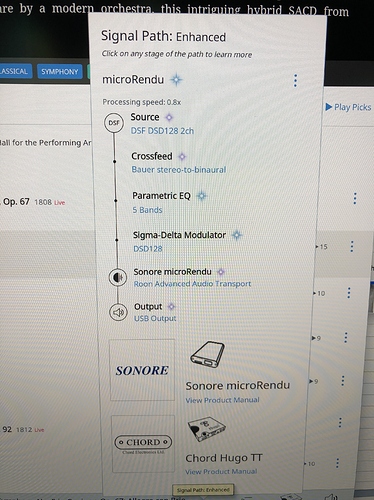 Hi. I would expect my Mac to have enough processing power and memory to manage dsd using the parametric EQ (5 bands) and crossfeed. DSD64 processes at 1.5x, while as you can see, DSD128 drops to 0.8x. Both cause major dropouts and then stop playing. iMac processor clock never exceeds 62%. Might I be throttling the Roon software with incorrect settings somewhere? Please help.
Stephen