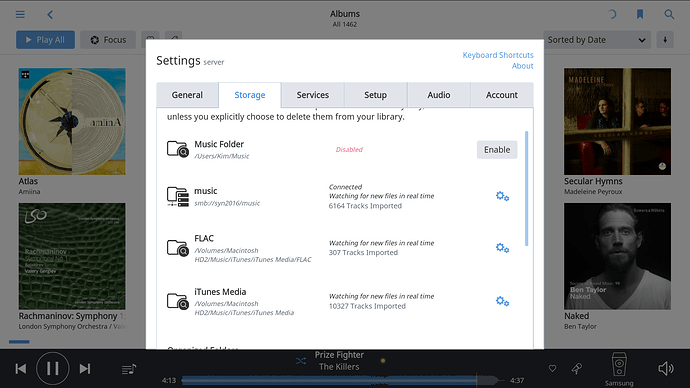 Hi,
I have been using Roon fro a week now. I like it a lot, except for the fact that I have to use the Tidal service instead of Deezer as I was used to.
However, i have a problem with albums not showing up.
The Roon server is on a Mac Mini (2011 server edition with an SSD and a HDD drive), connected with cable to my router. The software is on the SSD. I have my iTunes files on the HDD, including the FLAC subfolder.
Further I have a laptop I used for listening with a head set and the remote software on my phone.
On the screenshot I have the Synology server showing only 6164 tracks - I have more than 24k files in the music folder - some will be album covers of course. This server has all my music - both the files from the SSD and old low quality digital files I don't listen to anyway.
The folder called "FLAC" in the iTunes media folder has 5298 files. These are my main music files, newer purchased highres files and my CD collection in 44kHz/16bit quality. But Roon only shows 307 files imported.
A good example is the two albums from B&W's Society of Sound for October. I downloaded the album with Kjartan Sveinsson in 24 bit and the Sibelius Symphonies in 16 bit. After forcing rescan, Kjartan Sveinsson's album showed up, but the Sibelius Symphonies have still not showed up. I even copied this album directly into Roon - I am not ware if that put it into the SDD, but there should be 3 copies of that album in the system now.
Probably some old defect files somewhere are stopping download, but how would I find them?
I have searched for .wma files and deleted all those I found.
Best regards Kim Jensen