Hi @joel, I understand you're the master of metadata issues?
I see a bug in the metadata or the metadata system itself.
I've added album called "Make way for Love" by Marlon Williams from Tidal.
I don't if this happened immediately, but a week or so later I noticed it was filed under both Marlon Williams (no link on name, and a 20-ish Kiwi folk/country/rockabilly singer) and Marley Marl, a hip-hop artist from the late 80's.
Specifically, it seem that Marlon Williams is unknown to the system and is instead close-matched to Marley Marl, and that artist is used instead everywhere.
The response I saw in the log when Roon queried the album metadata (which despite being a binary file) shows quite clearly that the idea this is a Marley Marl record comes from the server, and is not a local mishap.
The first screenshot shows the album in its Tidal version (view album on Tidal), showing both artists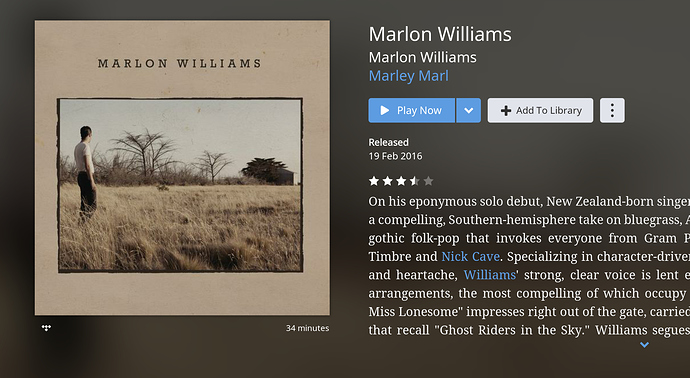 The second screenshot is of my edited version where I had to add Marlon Williams as an artist first, and then add him to the album, and de-select Marley M.
However metadata for all tracks still has all instances of what should be Williams replaced by Marl.