Today, I entered the disks from the Bruce Springsteen box set "The Ties That Bind: The River Collection." At first, things whent more or less OK: I ripped all the CDs under the title The Ties That Bind: The River Collection and Roon did what it occasionally does – it identified disk 1 as one edition of the album and disks 2, 3 and 4 as a second edition of the album. Minor problem – it has happened so many times, that it is almost expected behaviour and not worht posting about here. Indeed, I was pleased that Roon didn't insist that disks 1 and 2 weren't really "The River" (which in a real way they are). I highlighted both editions and merged them. I was asked to create an album with 52 tracks, which is the correct number of tracks, and one would have thought every thing was fine. That's where things went wacky. check out this screenshot: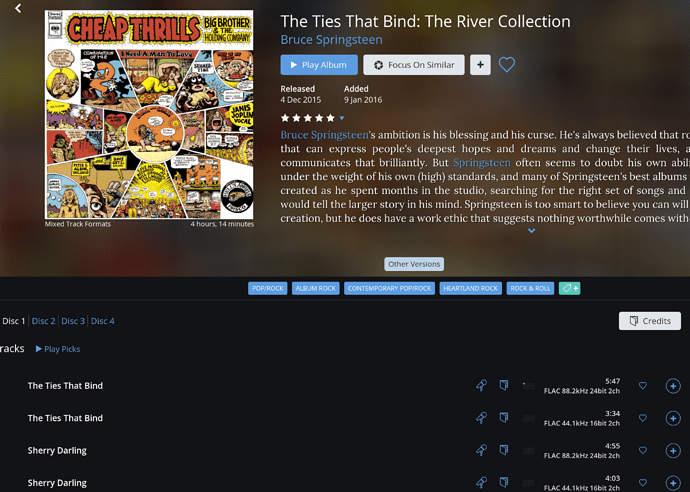 The 88.2kHz versions are not from the album at all, but from Cheap Thrills by Big Brother (whose cover art was then attached. Those tracks had formerly been correctly identified by Roon and had been in the system for some time. Now look at this screenshot: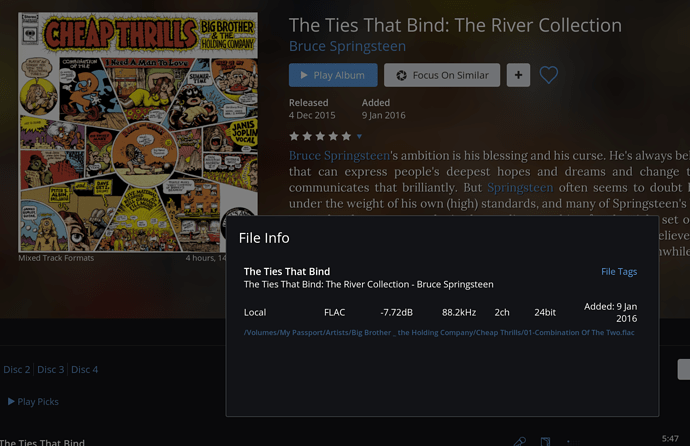 This is the file info on the first track, and as you can see, the track is really Combination of the Two, and is in the correct artist/album folder. I can't understand why Roon mixed these up. Corruption of my database maybe? Is there anything I need to do or be worried about?
FYI, I was able to manually remove the Cheap Thrills tracks using Fix Track Grouping, so the only real issue is troubleshooting the misidentification.