@joel, When I import this Nash Ensemble, Elgar disc I get this: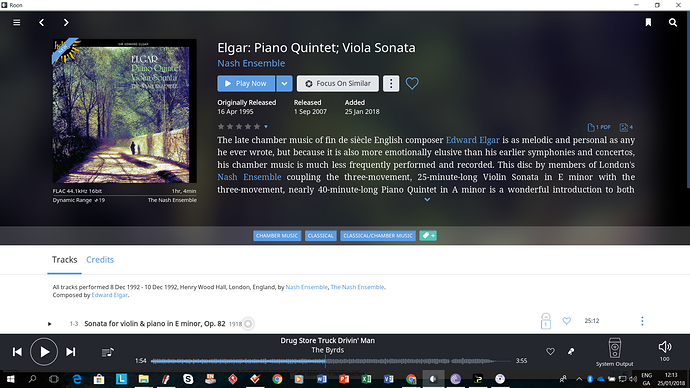 A minor quibble is that it is a "violin" sonata, not a "viola" sonata. It's on the cover.
But the real problem is that I have tagged it "The Nash Ensemble" rather than "Nash Ensemble" as that is also what is on the CD cover. Roon on the other hand has tagged it "Nash Ensemble". So now I have duplicates. I have 3 choices:
I can remove "The Nash Ensemble" from the roon credits.
I can re-tag my file to "Nash Ensemble" to match roon's incorrect metadata supplier
But that means I have to do 1) and/or 2) pretty much every time I have a Nash Ensemble album. What I would really like to do is:
Merge all instances of "The Nash Ensemble" to "Nash Ensemble" so it no longer matters which artist equivalent is in my tags and I never have to worry about it again or duplicate the tagging effort. The problem is I cannot because when I go to the artist page and filter on "Nash" I get this: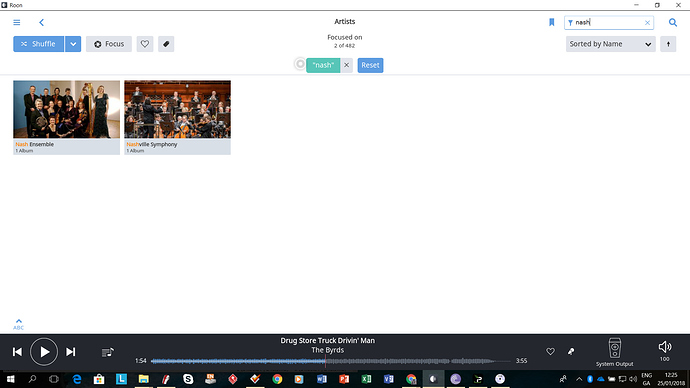 So I only see "Nash Ensemble" and not "The Nash Ensemble". I don't really know but my guess is that roon is not classifying "The Nash Ensemble" as an artist. Maybe it is classifying it as a performer? So my question is, what exactly is going on and why does roon not support this use case?
I find this a really common problem. It is very time consuming as normally I will first do 2) above and then often as not I get duplicates anyway so I have to do a variation on 1) above as well to remove a duplicated primary artist from the credits. I have now been trying to migrate to roon for over a year and I find this to be a very common and time consuming use case. Is there anything that can be done to reduce or eliminate the work created by this extremely common use case?