Hi, my Merging Technologies NADAC PLAYER is stuck in Roon 1.6 and won't allow update to 1.7: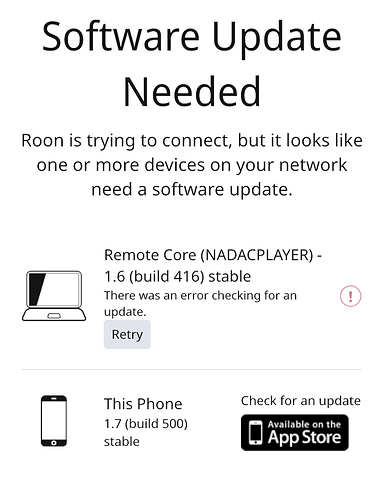 Help please!
R
Hey Ruben – we're discussing this with Merging now, and we'll have an update for you soon.
Sorry for the trouble here!
@Ruben_Ortiz, can you try going to the web ui and hit reinstall?
Already done… issue remains

try to reboot, then reinstall again – report back. there is a bug with the older nadacplayer roon os where DNS can get into a funky state – im positive you are hitting that bug.
Did the reinstall, reset and reboot of the NADAC PLAYER via the web interface: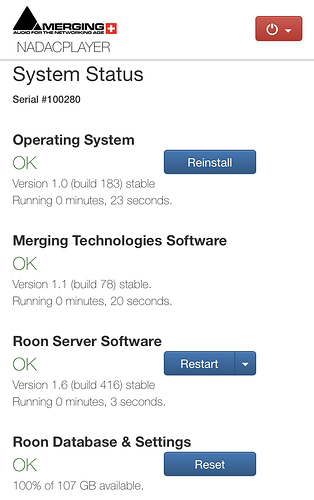 And the issue still remains: it won't upgrade to 1.7…
Could I get a 1.6 Roon app for my iPad and iPhone for the time being?
Thanks,
R
I am working on it… you'll be working in a few minutes… give me a sec.
no, apple does not give us a way to do this.
try now with your iphone/ipad – itll work
Thanks, it worked! Now I have to reconfigure my network NAS access on Roon since I reset it to original, it should work… will try later, lu ch time!
Thanks again!!
R