This issue happens on my hard wired Cores also, one Unix based, and two ROCK-units. The only thing separating them from my router and then the fibre media box is a dumb HP ProCurve gigabit switch.
Nope, nuttin'… Not even antivir… (only Windows Defender/Security Essentials on my Windows machines, of which none are acting as Core)
No configuration of the router either, no prioritized traffic or whatsoever.
Well, i was in my cabin this weekend and brought my portable Roon (the MacBook Pro 2017 which has been mentioned previously.) and since Roon cannot start up local audio without an Internet connection (freakin weird behaviour?) i connected it to my iPhone using Internet Sharing over 4G for startup. And wadda ya know, the Metadata improver service just stopped… No changes had been made to the media library at this time.
So, reboot the setup and do the whole thing over again, and there you have it, no errors.
Edit:
Just had to relocate my Linux Roon Core. Powered down and then booted up again, and this issue still persists: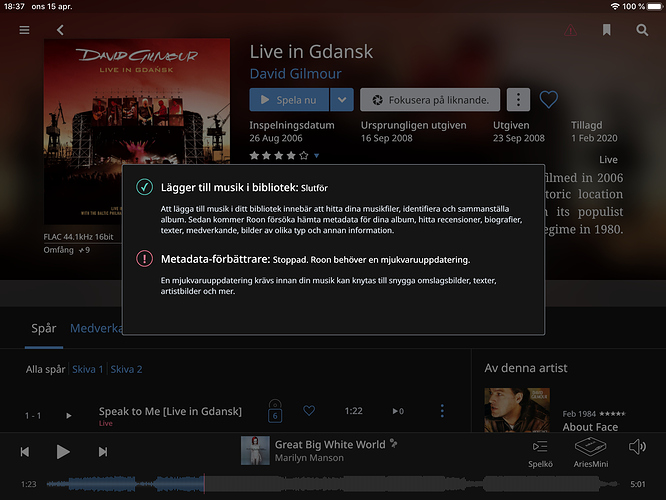 (Timestamp top left, CET)