Seems like even 1.7 roon is having problems?
Is there a fix in offering?
Thanks
Seems like more than a few people are having same problems…I have been issues for a few days now.
Dylan Hi,
Seems like Lpa and others are having this problem, is this been looked at by team?
Thanks
Hi @jake_smith,
So we can better assist you, please provide a brief description of your current setup using this link as a guide.
Make sure to describe your network configuration/topology, including any networking hardware currently in use, so we can have a clear understanding of how your devices are communicating.
Can you also share a screenshot of what you're seeing?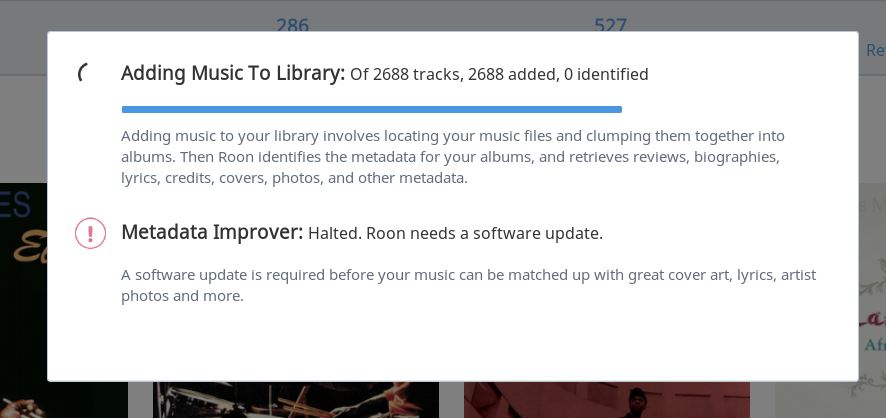 Is screenshot.
Roon core and Roon remote wifi (5ghz), same issue if on 2.4ghz or Ethernet,
Roon core windows 10 laptop, Roon remote andriod tablet,
Reboot / restart many times, same thing.
Thanks
Hi @jake_smith,
If you navigate to Roon Settings -> About, can you confirm what version of Roon you're running? Are you using the latest version (build 521)? If you are by any chance using an older version of Roon, can you please update it?
Hi,
Strange behavior noted also.
Anything that is in Qobuz ALREADY works without any problem at all.
If try to add anything new from Qobuz, it doesn't work.
If go to to Qobuz section in Roon, nothing is shown.
Logout out of Qobuz, restart core, log back in to Qobuz, doesn't work.
Is this related to another prob that has been written about?
Small shape triangle says : Metadata improver halted : Roon needs a software update
Also, very quick message about : error loading page, please check network connection flash on screen
Network is fine, all 5ghz, 2.4ghz and wired connections working 100%
All Qobuz apps on Winodows 10 latop and andriod tablet working 100%
This is same to : Metadata Improver halted message
sorry if english not 100%
Thanks
Hi,
Are you get Metadata improver halted : Roon needs a software update msg like me?
Qobuz problems started after that msg started flashing up for me…
No, I don't see that error.
Now getting "limiting roon radio to library" msg as well…
Mikael,
I am getting exact same issue, all updates done, is there an issue with roon servers at their HQ maybe?
Hi @jake_smith,
Did you see my message from above? Can you please confirm which version of Roon you're running?
This topic was automatically closed 365 days after the last reply. New replies are no longer allowed.