I also have the same problem
I'm sharing screen shot of metadata improver halted message and Roon version.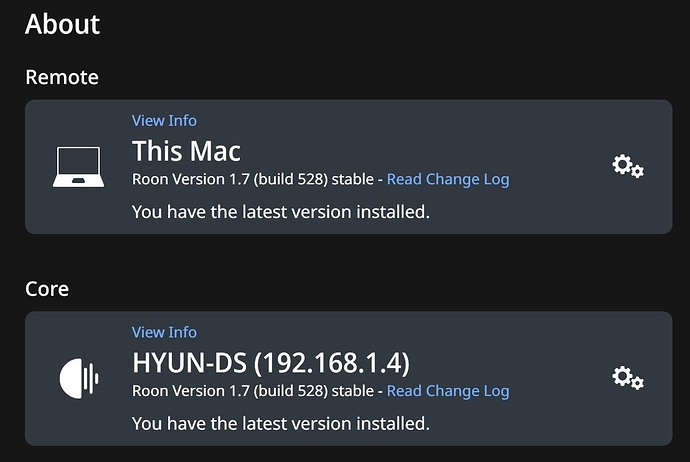 Thanks
Hi @Chang_Hyun_Kim,
I have split your post from the previous thread as to better assist you here. Can you please try rebooting your Core and logging out and back into any streaming services you have via the Roon Settings -> Services tab?
I reboot roon core computer (NAS or Mac) everyday. Therefore, I have the same message every day. When I restarted the core without rebooting computer, the message disappeared but the message reappeared next day. I think this message appears when the new album is added in my library.
Hi @Chang_Hyun_Kim,
Can you please reboot your computer to reproduce this issue and let me know the exact local time + date you observe the message appear at? Once I have this info I can enable diagnostics for your account and check for further clues there.
The message appears at:
Time: 08:04AM, 20th Mar, 2020 (GMT+9, Korea)
Core: Mac Book Pro 16
Hi @Chang_Hyun_Kim,
Thank you for letting me know that timestamp! I have gone ahead and activated diagnostics mode for your account and what this action should do is automatically upload a log-set to our servers next time your Core is online. Can I please request that you let me know the next time you use your Roon Core so that I can check for the diagnostics report?
OK. I'll start the core at 6:00PM, 20th Mar, 2020 (GMT+9, Korea).
I will not turn off the core until you gather sufficient information on it.
Hi @Chang_Hyun_Kim,
Thank you for letting me know the timestamp, I can confirm that the diagnostics report has been received.
I believe this issue might be due to one album in particular, [Takuo Yuasa - Part: Orchestral Works] with 8 tracks, can you please try removing this album from your library and let me know if it changes anything?
I moved the album that you mentioned from my library. I will inform you if it changes anything. However, the album is newly added album on MAR 20, 2020. Please note that I got the message regarding meta data earlier than this date. I guess that the message appears after the Roon 1.7 build 521.
Dear Noris,
I had no message for several days after I delete the album that you mentioned. But the message appears again after some new files are added in my library.
Hi @Chang_Hyun_Kim,
What does your network setup look like? Can you let me know your model/manufacturer of the networking gear? How are your DNS server set up, are you using the ISP provided ones or are you using custom DNS?
Dear Noris,
I am using two devices as a roon core:
Weekday: 07:00AM ~ 09:00AM (GMT+9)
Roon Core: Macbook Pro 16 (LTE data tethering)
Library Size: ~600 albums
Weekday: 06:00PM ~ 11:00PM (GMT+9) or
Weekend & Holidays: 09:00AM ~ 11:00PM (GMT+9)
Roon Core: Synology NAS DS1517+
Library Size: ~23,000 albums
Internet connection:
(Internet)
<–> Hub from ISP Provider (Korea Telecom)
<–> ASUS RT-AC88U (main hub with Ethernet/WiFi)
<–> IPTIME Ethernet Switch
<–> DS1517+ (Roon Core)
DNS Server Setup:
Primary DNS: ISP Default (Korea Telecom)
Secondary DNS: 8.8.8.8
Hi @Chang_Hyun_Kim,
Thank you for confirming the DNS aspect and for letting me know regarding the Cores. I would like to advise a cache clear procedure to see if it helps with this behavior, can you please give these instructions a try?
Exit out of Roon
Navigate to Roon/Cache
Move the contents of the /Cache folder elsewhere, like your desktop
Try restarting Roon and verify if the issue still occurs
Dear Noris,
I moved Roon/Cache files to other directory and restarted the Roon as you directed. However, the message still occurs…
Thank you.
Hi @Chang_Hyun_Kim,
Sorry to hear that refreshing the cache hasn't helped. I have reached out to our QA team for further assistance in your case, I appreciate your patience until this reaches the front of their queue and once I hear back I will let you know. Thanks!
Hi @Chang_Hyun_Kim,
I appreciate your patience here. I have been discussing this issue with our QA team and we believe that this issue can occur when there is packet fragmentation on a network setup, meaning that the complete information from our metadata servers don't properly reach the Core.
I know you mentioned that you have an IPTIME switch as part of your network setup, so I wonder if this is playing an issue here and possibly the fragmentation is happening there. Could you please try connecting one of your Core directly to the router and reboot it and verify if the same message appears?
Dear Noris,
Three months are elapsed since my last post. I posted this problem with Roon 1.7 (build 528) and now I am using build 571.
With build 571, the metadata problem takes places only when I change roon core (As mentions earlier, I am using two core machine with single core lincense).
After changing roon core, the metadata problems takes plance but disappears when thr roon core is rebooted. The problems don't reappear until the roon core changed.
Thank you
Thanks for the additional info @Chang_Hyun_Kim. The team is still looking into this behavior, but from what we have heard it is intermittent and goes away after a Core reboot (as you have noted). The investigation is still ongoing and QA is looking into it, but if we need further info from you, we'll be sure to reach out, thanks!