Roon Core Machine
Roon Rock 1.8 (build 831), Intel NUC8i3BEH, Core i3-8109U, 8GB RAM
Networking Gear & Setup Details
Apple Airport router
Connected Audio Devices
Naim NDX2 endpoint via ethernet (cabled)
Number of Tracks in Library
17306 tracks
Description of Issue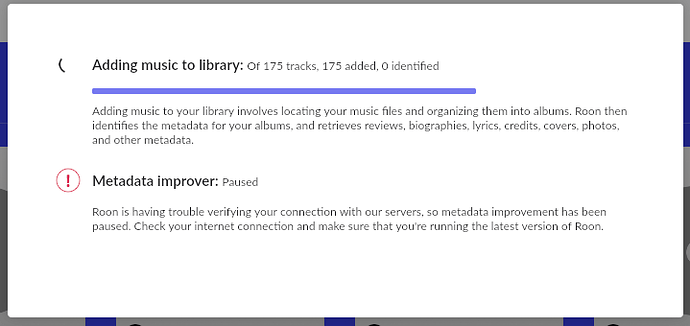 Roon has been stuck for about two weeks in update mode for new albums added from Qobuz (both in the room app and in the qobuz app when away from home). Previously everything has been working without flaws.
Music plays but I'm missing images on newly added albums. I haven't noted that any other meta data is missing.
I have tried to search for solutions to the problem and have done the following:
I have rebooted the s* erver and my router many times.
I have logged out of Qobuz, restarted the core and logged in again.
I have changed the DNS as recommended in other issues on. Rebooted router and rock server again.
Is there anything else I can do to fix this?